Brochure Download
Click the brochure cover image below to download a PDF version of our brochure.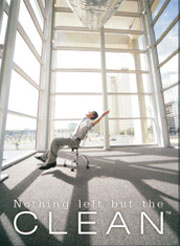 Back
Services
Request Info
Latest Blog Post
November 13 | 2017
Most flooring these days doesn't need waxing. Older floors, however, may have needed waxing, and over time wax can build up on tile floors, making them look yellow, dull, and older than they probably are. You can breathe new life into older tiling by stripping off the old wax. Floor stripping and waxing is a fairly easy process. Here are some things you'll need for stripping wax: Two pails of water, with two gallons in each pail; One cup of ammonia (not bleach); One cup of white vinegar; One mop;…
View All
FAQ
Royal Building Cleaning currently provides janitorial services throughout the GTA. We have accommodated coverage of cleaning services for clients across Southern Ontario.
View All