Brochure Download
Click the brochure cover image below to download a PDF version of our brochure.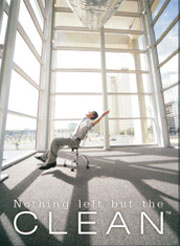 Back
Request Info
Latest Blog Post
January 22 | 2018
Pushing around the vacuum cleaner and wiping down equipment with a duster regularly is good for an office, but every once in a while an office space needs a good, deep cleaning. A thorough deep cleaning will not only rejuvenate the space itself, but will give your employees a jolt of positivity as well. No one likes sitting in a filthy work space. Deep Cleaning vs. Regular Cleaning Enlisting the help of a cleaning service will make sure a deep clean is done properly. In addition to everyday cleaning like…
View All
FAQ
We can offer janitorial service during business hours in the form of a day porter. We can provide this service to accommodate your cleaning requirements throughout your business day and offer further support with janitorial service in the evening. ...
View All