Commercial Cleaning Services Toronto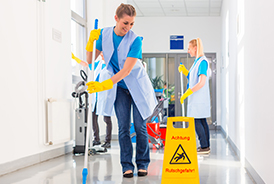 If there is one thing that all successful businesses tend to have in common, it's that they're well organized and clean. When you walk into a clean commercial building, one of the first things you notice is the high standards they uphold and their professionalism. At Royal Building Cleaning, we specialize in providing our clients with the utmost levels of cleanliness. We understand that a tidy workplace is the first essential step to providing a healthy and safe environment for all. Some of our many commercial services include:
Commercial Janitorial Services
Carpet and Upholstery Cleaning
Window Cleaning Services
Floor Refinishing Services
Construction Clean Up Services
High Level Cleaning Services
Emergency Cleaning
Specialty Services
Royal Building Cleaning is an ISSA member and certified cleaning company with over 60 years of service in the industry. We've been around for a long time, so we know a thing or two about high quality cleaning. Many of our clients have been with us for for over ten years because they trust our level of expertise and are pleased with our attention to detail. Our skilled professionals take safety seriously and are trained to adhere to industry standards. We are a bonded and insured company and are always up to date with WSIB clearance. We use the latest cleaning equipment and supplies and offer Green cleaning procedures.
Our cleaning professionals provide our industry-leading cleaning services all over the Greater Toronto Area, from Mississauga to Pickering. When you do business with Royal Building Cleaning, we provide you with a fully customized cleaning schedule to meet your needs. We understand that no two customers are the same, so we tailor our services to how you and your business operate. Our specialty cleaning services can range from annually to monthly, and regular cleaning services can be weekly to daily. Some of our clients operating 24 hours have scheduled cleaning services multiple times per day to cover all of their shifts.
Regardless of what kind of commercial building we are cleaning, Royal Building Cleaning uses only the highest quality cleaning products so that we get the job done thoroughly and get it done right the first time around. We are also a company that is committed to minimizing the impact we make on the environment. This philosophy is incorporated into both the products we use and sell. We offer a cleaning program called RBC Green to all of our commercial clients, allowing them to feel good that they too are working to minimize their environmental footprint and help keep the planet healthy and a safe place to live.
Get in touch with Royal Building Cleaning today and let us know how we can help you with any and all of your commercial cleaning needs. You can reach us at 1-866-278-8208 or (289)800-7694. Our office is open from Monday to Friday, 8:30AM-5PM. Additionally, we also have an after-hours emergency number our clients can call in the event they require an emergency cleaning service.
Back
Request Info
Latest Blog Post
March 26 | 2018
Carpets can enhance your floors and add a warmth to any room. However, carpets need to be cleaned regularly otherwise they can be detrimental to your overall health. Let's explore the harmful health effects of dirty carpets to give you a better understanding of how important it is to have them cleaned. Increases the risks of asthma attacks If you are asthmatic and have dirty carpets, your risk of attacks is higher than it would be if your carpets were clean. When carpets become damp and dirty, they attract organic…
View All
FAQ
Royal Building Cleaning can provide products and our team will monitor the inventory of products required for your facility and complete orders as required. This allows your own staff to focus on other important aspects of your business.
View All