Emergency Cleaning Services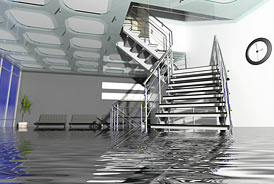 During an emergency situation response time is the most important factor. At Royal Building Cleaning we offer 24 Hour Emergency Response to our clients.
All of our clients can rest assured knowing in the event of an emergency they can contact a representative of our company.
The most typical emergency service we offer is flood clean up.
We are equipped to extract water, set up dehumidifiers, and air movers to limit damage to the flooded area.
We also treat the flooded area with an anti-microbial disinfectant, which kills 99.98% of mold, mildew, and bacteria.
Our company also has an extensive network in the disaster recovery industry to offer restoration contracting after the clean up.
What you can do in the event of a flood
In the event of a flood please see our recommendations below.
Before you enter any flooded area ensure it is safe to do so. This would include but is not limited to making sure power has been disconnected and that you have the proper safety equipment and apparel to enter the area.
Find the source of the water and ensure it has stopped.
Ensure any drains are clear and working.
Remove any affected loose items and furniture and evaluate if it can be saved or should be disposed of.
Extract as much water from the area as possible with a wet vac or other extraction unit.
Set up fans to keep the air moving. Stagnant air will promote the growth and spread of mold and bacteria.
Set up dehumidifiers to start removing as much moisture from the area as possible.
Back
Services
Request Info
Latest Blog Post
March 21 | 2017
Keeping all of the things in your home clean is no small task. You need to have a plan if you are going to get all of that done efficiently and still have time to do the other things that you have on your plate. If you have been searching for some help perfecting your cleaning ability, search no further. Below are five printable charts that will help you clean like a true cleaning professional. Laundry Stain Removal Guide This chart breaks down laundry stain removal into types of stains,…
View All
FAQ
No, you do not have to be home for outside window cleaning as long as our team can access all windows around your home. Sometimes this may include ensuring a gate is unlocked to access the backyard. Middle ...
View All