Emergency Cleaning Services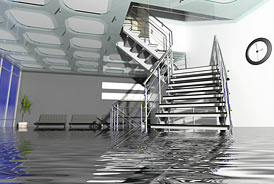 During an emergency situation response time is the most important factor. At Royal Building Cleaning we offer 24 Hour Emergency Response to our clients.
All of our clients can rest assured knowing in the event of an emergency they can contact a representative of our company.
The most typical emergency service we offer is flood clean up.
We are equipped to extract water, set up dehumidifiers, and air movers to limit damage to the flooded area.
We also treat the flooded area with an anti-microbial disinfectant, which kills 99.98% of mold, mildew, and bacteria.
Our company also has an extensive network in the disaster recovery industry to offer restoration contracting after the clean up.
What you can do in the event of a flood
In the event of a flood please see our recommendations below.
Before you enter any flooded area ensure it is safe to do so. This would include but is not limited to making sure power has been disconnected and that you have the proper safety equipment and apparel to enter the area.
Find the source of the water and ensure it has stopped.
Ensure any drains are clear and working.
Remove any affected loose items and furniture and evaluate if it can be saved or should be disposed of.
Extract as much water from the area as possible with a wet vac or other extraction unit.
Set up fans to keep the air moving. Stagnant air will promote the growth and spread of mold and bacteria.
Set up dehumidifiers to start removing as much moisture from the area as possible.
Back
Services
Request Info
Latest Blog Post
September 18 | 2017
The first impression people have of your home is the outside, so keeping the exterior clean and tidy is as important as having a gleaming interior. Keeping your house looking prim and proper from the outside takes some elbow grease and some savvy. You might want to keep these tips in mind when you're getting ready to do an outdoor cleaning. Give a Good Powerwash Using a power washer in the spring and early fall will keep the exterior of your home spotless. Make sure to do this task in…
View All
FAQ
We customize the cleaning service frequencies depending on the needs of our customers. Specialty cleaning services may range from annually to monthly. Regular cleaning services may range from weekly or bi-weekly to daily service. Some clients operating ...
View All