Floor Refinishing Services
Floor Refinishing Specialists Toronto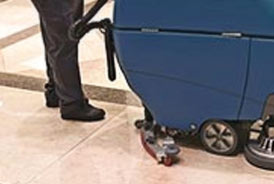 Royal Building Cleaning can restore the brilliance and shine to many floor types.
Vinyl composite floor stripping and waxing
Ceramic deep scrubbing and grout detailing
Tile and grout steam cleaning
Autoscrubbing and Resurfacing
Vinyl composite tile (VCT) flooring requires sealer and finish to protect the floor, enhance the appearance, and help maintain a clean facility.
Regular maintenance will make your facility look its best
Over time the floor finish will wear down, become scratched, scuffed, and harder to clean.  We can provide machine scrubbing to clean the floor, remove mild imperfections, and then apply additional floor finish to restore the shine and protection.
Discover a schedule that fits your facility and budget
There comes a time when a complete strip, seal, and refinish is required to restore your VCT flooring to its original appearance.  Though this process will not correct deep scratches or damaged tiles the remainder of your floors will look like new.  Facility requirements will vary however we typically recommend this process at least one time per year.
We can design a floor maintenance program to keep your floors looking their best. This may include a variety of services including buffing, burnishing, scrubbing, and complete refinishing. Contact one of our representatives today to consult the needs of your facility.
You will be amazed with the results our professional team can achieve. Let us show you the Royal difference!
Back
Request Info
Latest Blog Post
January 22 | 2018
Pushing around the vacuum cleaner and wiping down equipment with a duster regularly is good for an office, but every once in a while an office space needs a good, deep cleaning. A thorough deep cleaning will not only rejuvenate the space itself, but will give your employees a jolt of positivity as well. No one likes sitting in a filthy work space. Deep Cleaning vs. Regular Cleaning Enlisting the help of a cleaning service will make sure a deep clean is done properly. In addition to everyday cleaning like…
View All
FAQ
Royal Building Cleaning is a Canadian owned corporation operating under the laws of Ontario.
View All