Floor Refinishing Services
Floor Refinishing Specialists Toronto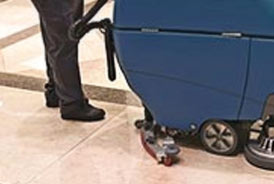 Royal Building Cleaning can restore the brilliance and shine to many floor types.
Vinyl composite floor stripping and waxing
Ceramic deep scrubbing and grout detailing
Tile and grout steam cleaning
Autoscrubbing and Resurfacing
Vinyl composite tile (VCT) flooring requires sealer and finish to protect the floor, enhance the appearance, and help maintain a clean facility.
Regular maintenance will make your facility look its best
Over time the floor finish will wear down, become scratched, scuffed, and harder to clean.  We can provide machine scrubbing to clean the floor, remove mild imperfections, and then apply additional floor finish to restore the shine and protection.
Discover a schedule that fits your facility and budget
There comes a time when a complete strip, seal, and refinish is required to restore your VCT flooring to its original appearance.  Though this process will not correct deep scratches or damaged tiles the remainder of your floors will look like new.  Facility requirements will vary however we typically recommend this process at least one time per year.
We can design a floor maintenance program to keep your floors looking their best. This may include a variety of services including buffing, burnishing, scrubbing, and complete refinishing. Contact one of our representatives today to consult the needs of your facility.
You will be amazed with the results our professional team can achieve. Let us show you the Royal difference!
Back
Services
Request Info
Latest Blog Post
November 13 | 2017
Most flooring these days doesn't need waxing. Older floors, however, may have needed waxing, and over time wax can build up on tile floors, making them look yellow, dull, and older than they probably are. You can breathe new life into older tiling by stripping off the old wax. Floor stripping and waxing is a fairly easy process. Here are some things you'll need for stripping wax: Two pails of water, with two gallons in each pail; One cup of ammonia (not bleach); One cup of white vinegar; One mop;…
View All
FAQ
Our inside and outside window cleaning service includes cleaning of tracks, sills, screens, and frames. Screens will be removed and cleaned. Windows that come apart such as Pella windows will be disassembled cleaned and reinstalled. If we ...
View All