Residential Maid Services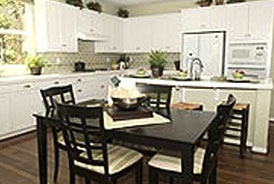 We offer a completely customizable residential maid service. We can provide service one time only or on a regular schedule to maintain the cleaning of your home. Our teams can perform general cleaning throughout all rooms of your home including dusting, vacuuming, sanitizing, sweeping, and vacuuming.
The frequency of our service is up to you however many customers prefer weekly or bi-weekly cleaning services to maintain their homes. We can also provide all cleaning supplies and equipment necessary to complete our service so you don't have to worry about running to the store or keeping stock of cleaning items in your home.
Our dependable and friendly teams are there to make your life easier. Contact us today and enjoy more of your day!
Back
Services
Request Info
Latest Blog Post
May 22 | 2017
Whether you know it or not, the people that professionally clean your house have a set of skills that enable them to handle high volume and ensure top quality. These skills not only save them time, but ensure that they are able to keep to their high standards and do the best job possible on other people's homes and businesses. Below are four skills that all cleaning professionals have. Competency Cleaning professionals not only know what to clean with, they know how to do it methodically. Part of being able…
View All
FAQ
Our office is open Monday to Friday from 8:30am to 5:00pm where a live person can take your call. Our account representatives and supervisors are all equipped with smartphones including email access to receive your messages while on the ...
View All