Residential Maid Services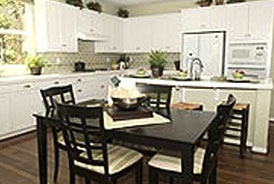 We offer a completely customizable residential maid service. We can provide service one time only or on a regular schedule to maintain the cleaning of your home. Our teams can perform general cleaning throughout all rooms of your home including dusting, vacuuming, sanitizing, sweeping, and vacuuming.
The frequency of our service is up to you however many customers prefer weekly or bi-weekly cleaning services to maintain their homes. We can also provide all cleaning supplies and equipment necessary to complete our service so you don't have to worry about running to the store or keeping stock of cleaning items in your home.
Our dependable and friendly teams are there to make your life easier. Contact us today and enjoy more of your day!
Back
Services
Request Info
Latest Blog Post
November 13 | 2017
Most flooring these days doesn't need waxing. Older floors, however, may have needed waxing, and over time wax can build up on tile floors, making them look yellow, dull, and older than they probably are. You can breathe new life into older tiling by stripping off the old wax. Floor stripping and waxing is a fairly easy process. Here are some things you'll need for stripping wax: Two pails of water, with two gallons in each pail; One cup of ammonia (not bleach); One cup of white vinegar; One mop;…
View All
FAQ
Our office is open Monday to Friday from 8:30am to 5:00pm where a live person can take your call. Our account representatives and supervisors are all equipped with smartphones including email access to receive your messages while on the ...
View All