Residential Maid Services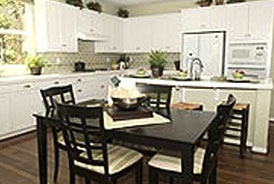 We offer a completely customizable residential maid service. We can provide service one time only or on a regular schedule to maintain the cleaning of your home. Our teams can perform general cleaning throughout all rooms of your home including dusting, vacuuming, sanitizing, sweeping, and vacuuming.
The frequency of our service is up to you however many customers prefer weekly or bi-weekly cleaning services to maintain their homes. We can also provide all cleaning supplies and equipment necessary to complete our service so you don't have to worry about running to the store or keeping stock of cleaning items in your home.
Our dependable and friendly teams are there to make your life easier. Contact us today and enjoy more of your day!
Back
Services
Request Info
Latest Blog Post
January 22 | 2018
Pushing around the vacuum cleaner and wiping down equipment with a duster regularly is good for an office, but every once in a while an office space needs a good, deep cleaning. A thorough deep cleaning will not only rejuvenate the space itself, but will give your employees a jolt of positivity as well. No one likes sitting in a filthy work space. Deep Cleaning vs. Regular Cleaning Enlisting the help of a cleaning service will make sure a deep clean is done properly. In addition to everyday cleaning like…
View All
FAQ
Our inside and outside window cleaning service includes cleaning of tracks, sills, screens, and frames. Screens will be removed and cleaned. Windows that come apart such as Pella windows will be disassembled cleaned and reinstalled. If we ...
View All