Professional Window Cleaning Services
Professional Window Cleaning Toronto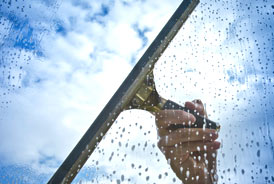 Royal Building Cleaning provides professional window cleaning for your home and office.
Whether you are looking to clean the exterior glass only or receive complete inside and outside cleaning our team will provide a detailed and thorough cleaning.
Experienced and dependable professionals
Our experienced and professional window cleaners will leave your windows sparkling and clear.  We meticulously clean your tracks, sills, screens and frames as a part of our complete window cleaning service.
Year round service
If you require service one time only or are looking for a consistent window cleaning schedule we can provide window cleaning service year round.
Your standards and the environment will determine the window cleaning frequency required.  Typically we recommend complete window cleaning inside and outside at least one time per year.  Many customers decide to have our service twice per year, spring and fall.  If you are a high traffic facility or have a retail storefront or showroom we recommend window cleaning service on a monthly basis to keep your facility looking its best.
We offer window cleaning to the following facilities:
Commercial, Retail, Recreational, Industrial
Residential Homes & Condos
High Rise & Low Rise
Interior Office Partitions
Contact us today for a quotation.
Back
Services
Request Info
Latest Blog Post
March 21 | 2017
Keeping all of the things in your home clean is no small task. You need to have a plan if you are going to get all of that done efficiently and still have time to do the other things that you have on your plate. If you have been searching for some help perfecting your cleaning ability, search no further. Below are five printable charts that will help you clean like a true cleaning professional. Laundry Stain Removal Guide This chart breaks down laundry stain removal into types of stains,…
View All
FAQ
Yes, we can provide service with green cleaning products by request.
View All