Brochure Download
Click the brochure cover image below to download a PDF version of our brochure.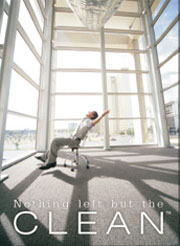 Back
Request Info
Latest Blog Post
October 17 | 2018
Most people spend more time working than they do at home. In many ways, the office doubles as a second home for your employees. So why not reward their hard work? Why not provide your loyal employees with a clean and healthy work environment? If you have hired a professional office cleaning service, then you are probably aware of their many benefits. They have been linked to increased workplace efficiency, safety, morale, positive mental health, respect, appearance, and much more. By hiring someone to do the dirty work, you can…
View All
FAQ
Our office is open Monday to Friday from 8:30am to 5:00pm where a live person can take your call. Our account representatives and supervisors are all equipped with smartphones including email access to receive your messages while on the ...
View All