Business spring cleaning is a critical part of ensuring your staff and coworkers remain motivated, productive, and most important of all, happy throughout the months to follow. One of the most noticeable blemishes on any office setting is an unclean carpet. Luckily, it is also one of the easiest office upkeep faux pas to remedy and should be at the top of any sensible business owner's business spring cleaning checklist.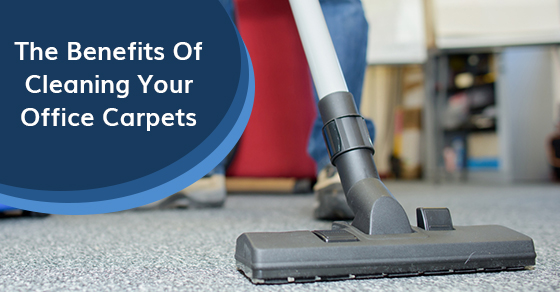 While a DIY approach may seem like the best way to tackle a grimy office carpet during business spring cleaning, a professional touch is something that staff and clients alike will surely notice and appreciate. The benefits of hiring a professional carpet cleaner are many, and go well beyond the aesthetic. You'll find that the decision to hire a carpet cleaner will soon pay for itself in a variety of ways.
Calibre of Equipment
The equipment used by professional carpet cleaning companies is of the highest quality available. For carpet cleaners, reputation is everything and their reputation is only as good as the equipment they use. A surprising amount of science and technical skill goes into determining what type of equipment is required for certain types of fabrics or materials. Most carpet cleaning companies worth their salt try to stay on the cutting edge of carpet cleaner technology to ensure the highest standard of cleaning possible.
Fresh Air
An unclean carpet has a distinct smell that's hard to ignore. It's often the first thing people notice when entering an office, and is a potential cause of embarrassment when welcoming clients or new staff into your work space. Professional carpet cleaners clean deeper than any vacuum cleaner can, removing the deepest grime and eliminating odours that have been set in for months, or even years. They utilize cleaning solutions that are designed to remove even the toughest, most pungent smells, and leave the whole office smelling fresh and inviting.
Reduced Mold and Mildew Buildup
The benefits of a professionally cleaned carpet go beyond sight and smell. A carpet that receives regularly scheduled cleanings will minimize the amount of potentially harmful mold and mildew that can build up over time (often faster than you might realize!).
Longer Lasting Carpets
A carpet that's cleaned regularly by professionals will outlast a dirty carpet. You may think that a nightly vacuuming by the cleaning staff is enough, but this may actually do more harm than good. Professional carpet cleaners know exactly what type of equipment to use on what type of material. Some fabrics are more delicate than others and require some extra care when cleaning that only a knowledgeable pro with experience can provide.
A professional carpet cleaning may be just what your office needs to give it that extra little bit of energy after your annual business spring cleaning. It is a small investment that will improve conditions in your business for months to come in ways you never realized!