6 Top Tips to Keep Your Office Carpets as Clean as Possible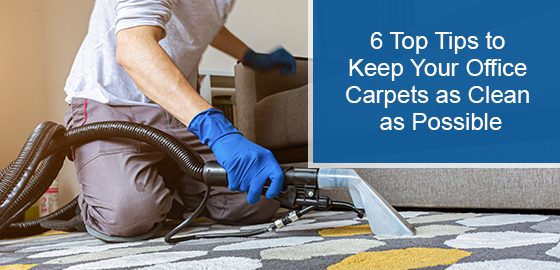 Carpets may not seem like much trouble, but they can easily become the culprit when it comes to harbouring germs, bacteria, and dirt. If you are a business owner, you will understand how big an investment the carpets in your business actually are.
Not only do they cover a good portion of your office, retail, or workspace, but they also require regular maintenance that can often be time-consuming and costly.
Here are 6 helpful tips to keep your office carpets as clean and dirt-free as possible so that your customers and employees will feel safe, comfortable, and impressed with the overall cleanliness and maintenance of your office.
Choose Carpets Wisely
When installing carpets in your workplace or office, there are a couple of things you may want to keep in mind to ensure that your carpets get the best chance at staying clean and fresh with minimal effort.
For example, consider the colour of your carpets. White or lighter colours will emphasize dirt and any stains; so, while they can look great and professional, they will usually require more maintenance and regular professional cleaning. If you do opt for white carpets, perhaps only putting them in areas with low daily traffic would be a good decision.
High-traffic areas such as kitchens and entrances/exits may require a darker shade of carpet (or perhaps no carpet at all). At the end of the day, the choice is yours. However, be mindful of where you put the carpet and what kind of colour you choose, as these are all factors that determine how costly and frequent maintenance will be.
Vacuum and Spot Clean
It's important to regularly vacuum any carpet so that it stays clean and free from dust, dander, and allergens. Carpets can easily harbour dirt, sweat, crumbs, and many different types of bacteria let in from both inside and outside.
Vacuuming should be done at least once a week, and remember to regularly check the vacuum filter. Doing this alone will decrease the amount of dirt and bacteria in the air to keep you and your employees healthy while also keeping your carpets looking their best.
If your carpets accumulate spills or stains, it's a good practice to spot treat them by blotting with a cloth or paper towel. Keep some cleaning products handy so that you can spot clean in a pinch should the need arise!
No Dirty Shoes
Mud, rain, snow, and slush can easily wreck freshly cleaned carpets. You could be doing everything right to clean and maintain your carpets only to find that someone stomped right through them with dirty, muddy shoes, leaving them looking horrible. In order to avoid this scenario, it's a good idea to put mats at every entrance point so that people can wipe off their shoes before entering the clean, carpeted areas. If you want to go the extra mile in ensuring your carpets stay clean during the winter or rainy season, put up a sign near each entrance to remind visitors and employees to wipe off their shoes before entering. Depending on your business and type of establishment, you may even be able to forgo shoes at the entrance. This will make cleaning and maintaining your carpets much easier.
Clean Air Filters Regularly
Air filters help remove dust, allergens, and particles from the air that could normally fall into your carpets and cause them to become dirty. This is why cleaning and changing your air filters regularly will help to decrease the amount of dirt and bacteria on your carpets. Remember to change your air filters every 2-3 months for cleaner air and fewer allergens in your workplace.
Act Fast
There's no denying that accidents happen. However, it is wise to have a plan for when these accidents, spills, or leaks occur. This way, you can act fast, and your carpet won't be permanently stained or damaged. Not only should you keep some cleaning products on hand for small spills, but you should also keep a commercial cleaning company on call for bigger messes and accidents that you aren't equipped for. They have all the necessary products and supplies to tackle any mess and quickly and efficiently get the job done.
Use Commercial Cleaning Services
On that note, any office or workspace needs professional cleaning services a couple times a year. Professional cleaners can tackle deeper issues and really remove all dirt and bacteria (including things you can't see) from carpets and flooring. This will make it easier for you to maintain your carpets, and your workplace will stay looking great in every season.
Contact RBC Clean
While you may be able to spot treat and maintain your carpets from time to time, keep in mind that your carpets need a professional cleaning at least 2-3 times a year. This will ensure that they are deep cleaned and free from dust, allergens, and bacteria. For details and information on commercial cleaning services in Southern Ontario and the GTA, please call RBC Clean at 1-866-278-8208 or contact us here. We are located in Aurora and proudly offer enhanced cleaning services that help make our customers' lives easier. Contact us to get a free quote; our representatives are ready and willing to help discuss your budget and needs.