Carpet Cleaning & Area Rug Cleaning to Help Keep Your Interior Space Clean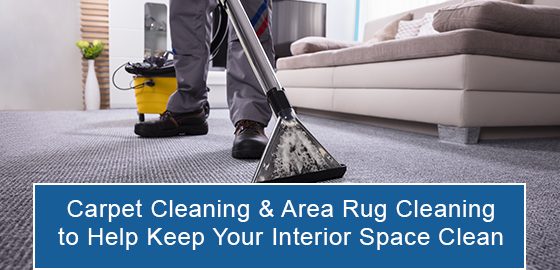 There's nothing better than feeling the softness of a clean carpet under your feet. A beautiful area rug in the centre of the room is the perfect accent in any part of your home.
A fresh, clean carpet is important to maintaining a room's overall brightness and cleanliness. When guests come into your home, one of the first things they will notice as they step onto your floors is how clean the carpet is.
Besides their appearance, carpets are also a great way of pulling common irritants out of the air, such as pet hair and dust. However, if not taken care of properly, this dust and grime can build up and become a major source of harmful allergens and odours.
Fortunately, our team is here to help you take on any carpet-cleaning concerns and troubles you may have had. This article will guide you through some of the best methods to clean your carpets and area rugs while providing you with solutions to removing some of the toughest stains.
Basic Area Rug Cleaning Tips
Cleaning an area rug can be a quick and simple process with the right methods and tools. Your area rugs will be much cleaner and well-maintained with these tips and tricks.
1. Blot stains instead of rubbing
Possibly the most well-known cleaning tip is never to rub your stains after a spill. Instead, blotting with a cleaning solution and a cloth helps remove the moisture and stain particles without spreading them to other areas of your rug or damaging the fibres.
2. Brush out pet hair
Shedding is a common struggle that all pet owners face, as pet hair can build up and coat furniture, clothing, and especially your rugs and carpets. Even vacuuming will sometimes leave pet hair behind, making it important to brush out any remaining hairs. Depending on how often your pet sheds, use a stiff brush to gently brush in the same direction as the fibres of your rug.
3. Shake out small area rugs
If your area rug is small enough to carry, take it outside for a regular de-dusting session. This consists of shaking out your rug or beating it to release any dust embedded deep into the fibres.
4. Use common household products on stains
With so many carpet cleaning solutions on the market, it can be overwhelming to determine which will remove your rug stains. Fortunately, commercial cleaning products with harsh chemicals are often unnecessary when cleaning your carpets and rugs, and common household products will usually do the trick.
Simple solutions like a one-on-one ratio of white vinegar, water and dish soap can be just as effective as any commercial detergent. Sprinkling baking soda on the affected area, letting it sit for a few minutes, and blotting it up with a cloth is also an effective method of treating carpet stains.
Opt for an acidic solution such as a citrus-oxygen cleaner, lemon juice, or two tablespoons of citric acid combined with a spoonful of salt and a litre of water for tougher stains.
A Step-by-Step Guide to Cleaning Your Carpet
Despite carpets and area rugs often being made from similar materials, mats that extend across the floor in any area of your home need far more care and attention. Thankfully, there are ways to make cleaning your carpet less hassle-free.
Step 1: Vacuum at least once or twice a week
Using the vacuum on your carpet weekly or bi-weekly is a part of regular carpet maintenance. Considering its effectiveness in ridding your carpet of visible pollutants and bacteria, it's likely the most important part of carpet cleaning.
Vacuuming prevents the build-up of dust and grime by sucking up all allergens and dirt such as pet hair and mud particles that may get tracked in from shoes. Removing these carpet pollutants regularly can keep your carpet from degrading prematurely, extending your use and preserving its appearance.
Step 2: Tackle spills as soon as they appear
Spills and messes can penetrate deeper into the fibers of your carpet the longer you let it linger without any action. The second a spill manages to wreak havoc on your carpet, get started on cleaning it right away. The looser the stain is, the easier it will be to remove it.
When a mess makes its way onto your carpet, pick up any physical scraps (such as food) and blot up any excess moisture to prevent a permanent stain from setting in. Then, you can begin the process of treating it with a stain-removal solution.
Step 3: Refresh the carpet regularly
Performing a regular refresh of your carpet can increase its appearance and keep it looking brand new, no matter how old it is. If you don't have professional cleaning equipment, there are other ways to maintain the life and vitality of your carpet.
Without a steamer, freshening up your carpet consists of disinfecting it with a scrub brush. Skip the harsh chemicals and go for a more natural clean with one part white vinegar to three parts water, with the option of adding a couple of drops of lemon essential oil to give it a nice, clean smell. Rub the solution into the carpet and blot the excess moisture with a cloth.
Step 4: Get help from a team of professionals
Sometimes, it's just not possible to remove all the dust and grime from your carpet, especially considering it's a lot of work for just one person to handle. Most people don't own a quality carpet steamer or deep-cleaning equipment, but professional cleaners do.
Once a year or whenever you find your carpet getting dingy, call a team of professionals to steam your carpet and remove stains and built-up grime. Performing this type of deep cleaning will ensure the longevity of your carpet and enhance its freshness for months to come.
Professional Carpet Cleaning Services
If you find that your carpet or area rug needs a deep cleaning, RBC Clean is here to help. With years of experience under our belt, we can ensure that your carpeted floors and area rugs are left with an exceptional clean.
We use professional, high-quality cleaning equipment often not found in common households. Our methods and tools will help maintain the fresh look and feel of your carpets and rugs, allowing you to focus on other important things, such as serving guests in an amazingly clean home.
For more information on home cleaning services and all your carpet cleaning needs in Toronto and the GTA, contact our team of professionals today at 1-866-278-8208.