The Best Methods for Carpet Cleaning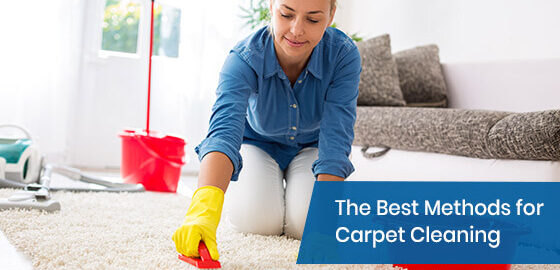 Even though there are many different types of flooring, carpets are still a popular choice. People usually opt for carpet for its warm look and softness on your feet.
If you own carpet flooring, then you know how quickly they can wear over time. However, if you take care of your carpets, they can look as good as new for many years. The best way to keep your carpet looking pristine is with a regular cleaning routine, stain-removing techniques, and an adequate vacuum.
Whether you have carpet in your home or commercial space, hiring a professional cleaning company is an excellent option. In between cleanings, there are ways you can maintain the appearance of your carpets. Here are some of the best methods for carpet floors.
Periodic Vacuuming
Carpets can be an area where dust and dirt gather, wearing down your carpet as time passes. Instead of vacuuming once per week over the entire area, it's more effective to vacuum the most populated spots at a minimum of twice a week. When you clean the highest traffic areas, this will lengthen the life of your carpets. Be sure to take the time you need while overlapping.
Steam Clean Your Carpets
In addition to vacuuming, steam cleaning is an effective way to keep your carpets looking their best. Using a steam cleaner regularly will freshen up carpets so that they look as good as new.
If you don't know how to steam clean, you need to purchase a machine. The process involves using a cleaning solution with pressurized steam that penetrates deep into the carpet through water nozzles. The device pushes the cleaning solution into the dirt trapped in the carpet and breaks it down.
Steam cleaning allows hot water and steam to be embedded into carpet fibres to loosen up debris deposits. As a result, your carpets will be cleaner and fresher than ever. Deep cleaning your carpet every six months will do the trick and is a necessary process for your carpeting.
Removing Carpet Stains and Odours
If you notice a stain or have a spill on your carpet, it's essential to clean up the area right away. Carpets can resist liquids for a short time, so blot the area immediately until it is dry. This technique will reduce the chance for the stain to set in place.
Carpet stain remover

If it doesn't appear to have had much effect after blotting, use a carpet stain remover; however, follow the instructions carefully. First, do a test patch by placing the remover on a cloth on a small spot on your carpet for an area. Then, blot it with a dry white cloth. If you notice that it stains the fabric with colour, then do not use this carpet stainer for your flooring.

Baking soda

When it comes to carpet odours, one of the best products to use is a common household item: baking soda. Lightly shake this substance onto the carpets and let it sink in for 15 minutes. Then, use your vacuum to suck up the baking soda, and the odours should decrease.

Club soda

Another handy trick is by using club soda to remove red wine stains, but you need to perform this method properly. Dampen a clean cloth with club soda, then blot the stain. Once the stain is lighter, keep blotting it with more club soda.

Vinegar

If you find that this technique is not working, put together a mix of equal parts vinegar and water into a spray bottle. Then, spray it onto the stain, wait 15 minutes to soak up, and use a dry sponge to clean it up. Keep performing this process until the stain is completely gone.

Finally, you'll want to rinse the area with warm water and brush the carpet by hand. You should also lay the area with paper towels and weigh them down. The reason for using paper towels is to dry the carpet, and this process generally takes a whole day.

Shaving cream

If you have used all of the previous techniques, but are still having issues removing stains, there is one alternative trick that can be effective: shaving cream! Shaving cream is a substance that will take out nearly every kind of stain. All you need to do is apply it to the stain and let it soak in for approximately half an hour. Then, use a dry, white cloth to blot the shaving cream, and you should see optimal results.
How to Reduce Grease
If you have a greasy spill, these can be especially challenging to clean. However, it is not impossible to clean greasy carpet stains; you just need to use some grease-cutting dish soap and mix it with warm water.
Make sure that the soap is completely dissolved when you blend them. Then, grab a spray bottle and pour the soap and water into it. Use the previously mentioned blotting technique with a white cloth or paper towel, and repeat this process if necessary.
Clean Pesky Pet Accidents
If you're a pet owner or allow pets at your office, then it's only natural that your pet will have an accident on the carpet. Instead of using a chemical cleaner, pet accidents or stains are more effectively cleaned up with organic cleaners. You'll want to spray the solution onto the stain, and then scrub it. Finish it off by using a white cloth to wipe the cleaner.
At RBC Clean, we have decades of experience cleaning carpets and upholstery for commercial, industrial, and recreational facilities all over Ontario. We pride ourselves on being a Canadian-owned company and leaders in the Canadian business community. Our loyal customers entrust to do their cleaning in professional, medical, municipal buildings, and manufacturing.
To learn more about the best methods for cleaning your carpets, call RBC clean at 1-855-493-9259 or contact us here.