Top Reasons to Hire a Professional Carpet Cleaning Service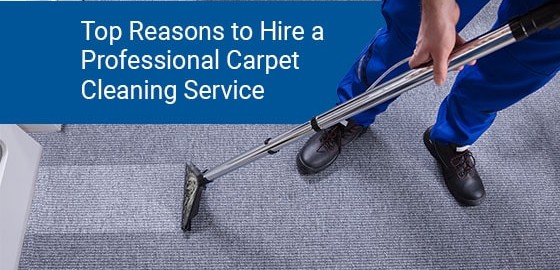 Vacuuming alone is not enough to keep your carpet clean and hygienic. The actual work of cleaning a carpet is a tough process that can be difficult to accomplish on your own.
When it comes to cleaning carpets, hiring a professional carpet cleaning service is the best option to ensure the best result. That said, it is also important to consider the type of equipment that the company has, and ensure that the employees are trained to use the equipment properly. Quality service requires proper truck-mounted cleaning equipment, thorough employee training, and certification by a relevant body, such as the Better Business Bureau (BBB) or the Institute of Inspection, Cleaning & Restoration (IICRC).
Here are some benefits of working with professional carpet cleaning service:
Thorough cleaning

Carpet cleaning is intended to remove not only dirt but also pollutants in household air that settle on the carpet. This could include pollen, product residue, exhaust fumes, bacteria, fungus, and cigarette smoke. These pollutants are typically carried by air into your home, though some may come from using personal or cleaning products. They cannot be adequately removed by vacuuming alone, which leaves your family at risk of associated health concerns. Fortunately, they can be completely removed with a professional cleaning once every six months, or more frequently depending on the traffic.

Proper carpet cleaning methods

There are different carpet cleaning methods used to provide the best results for different situations. Each method is unique and yields different results. The common methods include Chemical Dry Cleaning, Bonnet Transfer Cleaning, and Hot Water Extraction.

Most carpet manufacturers recommend hot water extraction or steam cleaning method. But these should only be done by professionals, who can properly balance the pH of the detergent and that of the carpet. An unbalanced carpet pH after cleaning implies that there's some detergent residue, which is not only unhealthy but also causes rapid re-soiling.

Keep in mind that there are two techniques in hot water extraction. Truck-mount extraction is the preferred method as it uses a large machine mounted on a truck or van for power, fast cleaning, and optimal recovery of the cleaning solution. The other technique, portable extraction, uses small, hand-held equipment that is not as effective.

Prevent carpet deterioration

Vacuuming your carpet on a regular basis helps to prevent the build-up of dirt but does have an abrasive effect similar to sandpaper, which can cause rapid wear of the carpet. Carpets need to regularly professionally cleaned to remove dirt and other substances that are not picked up by the vacuum.

If not correctly cleaned, every time someone steps on the carpet, they grind dirt into the carpet fibres, further damaging the carpet. Dirt causes irreversible damage, and faster carpet wear. A clean, well-maintained carpet will last longer.

Remember that excessive moisture can damage the structural integrity of the carpet and cause it to delaminate. Professionals know how to clean and quickly get rid of any moisture not only to delay soiling and extend the deep cleaning interval but also ensure the longevity of your carpet.

More comfort

A clean and neat environment helps you relax and feel more comfortable. Clean carpets that smell fresh makes the indoor atmosphere pleasant and refreshing. Getting your carpets professionally cleaned is the cost of comfort in your home. Moreover, you get peace of mind that all allergens and other pollutants have been removed for the health and safety of your loved ones, especially if you love to walk barefoot.

Efficient and effective cleaning

When cleaning your carpet, it can take a lot of time and resources searching for the best products and supplies to use. Even if you invest in the best carpet cleaning technology, purchasing the necessary tools and equipment for deep cleaning your carpets may not have a valid return on investment, especially with rapid changes in technology that may make them obsolete faster.

You're unlikely to get your carpet perfectly clean on the first few attempts, until eventually you get frustrated and hire professional cleaners. You can save time, money, and effort by hiring professional carpet cleaners from the start.

Different carpet materials also require different kinds of approaches for cleaning and stain removal. While you can look for DIY solutions to remove stubborn stains, this is still a trial-and-error approach that may waste your resources. Highly experienced professionals will get the job done right the first time, regardless of your type of carpet or complexity of the stains. Plus they can invest in the newest cleaning technologies at all times for superior results.
Carpet Cleaning Costs
When you contact any reputable carpet cleaning company, they're unlikely to provide an exact price quote for the service over the phone. Most companies price by the square foot, with a starting minimum.
Some cleaners also price the service based on the condition and style of the carpet, because some carpets take more effort and supplies to clean than others. Another consideration is the last time the carpet was cleaned because dirtier carpets often require more work and time to clean.
Many factors affect the pricing of quality carpet cleaning services, and the only way to get an accurate quote is by arranging for an in-home visit by a reputable carpet cleaning company.
A good carpet company should:
Provide a written estimate of the services that will be provided and the full price
Provide a 100% guarantee of their work
Have recognizable certification
Carry liability insurance
Have lots of experience in the carpet cleaning business
Be willing to tell you the carpet cleaning methods they use
Provide regular employee training on best practices for cleaning a client's home
Remember, the lowest price is not necessarily the best option, plus you may end up paying more in hidden costs and poor service. Instead, you should focus on finding a reliable and credible carpet cleaner who can justify the value of their service at the price they quote.
To learn more about the advantages of hiring professional carpet cleaners, call RBC Clean at 1-855-493-9259 or contact us here.