What Do Professional Carpet Cleaners Do?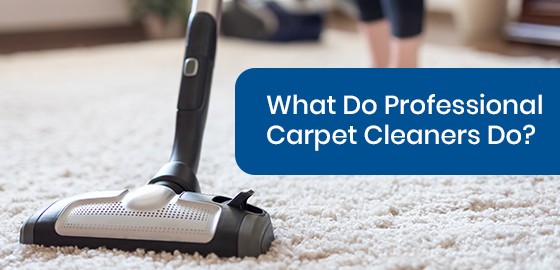 Carpets are dirty places in the home. They accumulate dirt, dust and even bugs. While these bugs may not actually live in your carpet, they often end up there when they die, making your home's carpet a bug cemetery.
Another thing that might be lying underneath your plush carpet is mould. This is because a carpet is quick to soak up liquids, which tend to fester underneath your feet. It can be wet underneath even if it feels dry to the touch.
One researcher from New York University's Langone Medical Center, notes that carpets contain about 200,000 bacteria per square inch. That's more than a toilet.
It's not a surprise that all these things collecting in your carpet can cause some health problems, particularly for those with asthma or allergies. With all these health hazards accumulating at your feet, it is important to deep clean your carpet regularly.
When it comes to getting your carpet looking its best, there is a big difference between renting a carpet cleaner to do it yourself and hiring a professional carpet cleaner to get it done. With all the things that are accumulating in your carpet, are you confident you can get it done right? Some things are best left to a professional. Carpet cleaning is definitely one of those things.
Why hire a professional carpet cleaner?
Here are some important ways a professional carpet cleaner is better than trying to tackle the job on your own.
Tools

When you hire a professional carpet cleaner, you are getting some of the best tools to get the dirt out of your carpet. There can be many hard to reach places in a home, but professional carpet cleaners have the right equipment to meet any challenge. Moreover, the tools that a professional has in their cleaning kit will be ones that you can't pick up with a local rug cleaner. This includes special UV lights to track down stains and steam cleaners to get a deep-down clean.

Expertise

Professionals have the experience needed to get the job done right. They know what to look for and how to find those icky things building up in your carpet. More importantly, experts have the right techniques for nearly any situation, from mould and mildew to tough stains to delicate fabrics.

Disinfect

With the right carpet cleaning company, there will be a long-term benefit, such as products that clean and disinfect. Due to the number of things that collect in your carpet, people with allergies often suffer the most. However, a professional carpet cleaner will ensure that the flooring is disinfected during the cleaning process.
What does carpet cleaning involve?
Depending on your specific needs, giving your carpet a comprehensive clean usually involves steam cleaning. This is a technique that uses hot water to give the carpet a thorough wash. It is a much better way of guaranteeing all the dirt and soil that has been ground into the carpet comes out.
The process involves applying a solution that loosens the dirt, which is followed by a hot water rinse. The carpets are then vacuumed with a special machine that cleans up all the water and dirt, leaving your carpets looking brand new.
There are other options and services that professional carpet cleaners can do to help your home look, feel and smell its best. These include:
Odour removal
Green product use
Stain cleaning
Under furniture carpet care
Area rug cleaning
It can take up to 24 hours for your carpets to fully dry. During this time, you want to be careful not to track dirt on the freshly cleaned carpet. Some people turn on fans and open windows to cut down on the drying time. If weather permits, it can be a helpful way to get your carpets to dry faster.
Maintaining Your Carpet
It is important to keep in mind that most industry experts recommend you get your carpets professionally cleaned once a year. This will help your carpet to look its best and to last for a long time. However, there are ways that you can maintain your carpet in-between professional cleanings.
Clean up a spill quickly

When anything spills on your carpet, try to soak it up quickly before it has a chance to settle into a stain. This is extra important if the spilled item was a liquid. Carpets can soak liquids up fast, which can cause mould problems underneath. You can also try using a spot removal to clean up the stain.

Vacuum often

Keeping the dirt from settling into your carpet is one of the most important ways you can care for it. Consider vacuuming a couple of times a week or more, depending on how much traffic goes through your home.

Doormats

Having doormats at each entry point to your home will reduce the amount of dirt and debris that is tracked in on the bottom of shoes. It is also a good practice not to wear your outside shoes in the house. This habit can reduce a large amount of dirt that gets into your carpet.
Your carpet can be a messy place. Dirt, dust and bugs all gather in your carpet and are not always cleaned away with a regular vacuum. This is why having a professional carpet cleaning do the job at least once a year is a key to maintaining a clean home and carpet.
For more information about professional carpet cleaning, call RBC Clean at 1-855-690-5141 or contact us here.