Five Different Reasons You Should Be Using Green Products for Janitorial Cleaning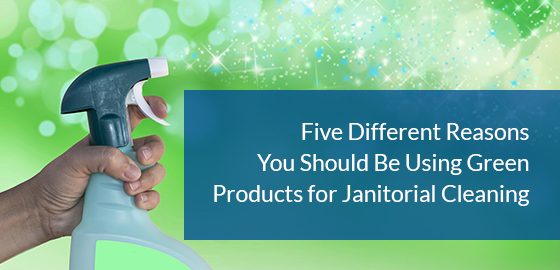 Everyone is trying to think more about the environment these days. We all do our best to follow the Three Rs: Reduce, Reuse, and Recycle. But there's another way you can help the environment, and that's by using green products for your janitorial cleaning.
As green technology becomes more common — like electric cars or solar energy — it becomes less expensive and easier to access. This principle also applies to using green products for cleaning, whether for everyday household or commercial janitorial cleaning.
There are so many good reasons to use green products as part of your janitorial cleaning, and at RBC Clean, we can help you with that. We even have a unique program — RBC Green — dedicated to it.
Here are the many reasons to use green products for janitorial cleaning:
It's healthier for you and your staff.
It's healthier for the planet.
No bad smell left behind.
It can be easier on your floors, carpets, and furnishings.
It's less expensive than you think.
Green Cleaning is Healthier
Traditional cleaning products contain many harsh chemicals, and those chemicals stay behind after your cleaners are finished cleaning. By choosing to have your janitorial cleaning staff use more green products, you reduce the exposure you and your team will have to chemicals that could be harmful.
Conventional cleaning products release something called Volatile Organic Compounds (VOCs) into the air. VOCs are associated with various health issues, including damage to the liver, kidneys, and the central nervous system.
Switching to a green cleaning spray can help cut down the number of contaminants released directly into the air. Airborne pollutants are one of the leading causes of asthma.
You will avoid any reactions to the harsh chemicals that can occur with traditional cleaning products. Harsh chemicals in conventional cleaning products can cause your staff to react badly.
Green Cleaning is Healthier for the Planet
We're all starting to realize the impact that our actions can have on the environment. Of course, no one wants to sacrifice safety or health for the environment. And you don't have to with green cleaning products.
When you switch to green janitorial cleaning, you can rest easy knowing you are helping cut down on the number of harmful chemicals released into the environment during cleaning.
Choosing to have green janitorial cleaning has so many benefits:
Help reduce pollution going into our waterways and our air.
Decreases your impact on ozone depletion, as well as global climate change.
Cuts down on waste - green cleaning products often use recyclable packaging.
By selecting green cleaning products, you are making an impact before you even start using them. Green cleaning products are made from naturally derived substances using sustainable manufacturing practices. That means that their manufacturing process has far less impact on the environment than that of traditional cleaners.
Green Cleaning Products Smell Better
You can always tell when you go somewhere that has recently been deep cleaned by the distinct smell of ammonia or bleach. It's often referred to as "hospital smell." And while it can be reassuring that at least a place has been cleaned, it's also extremely unpleasant to smell.
In addition to being unpleasant, the smell can directly impact your staff's health. Many people are susceptible to smells. Being stuck in an office where the windows don't open can give your team headaches from the fumes.
Green cleaning products are usually unscented or have a pleasant smell that is part of their cleaning power, such as citrus oil. Your staff can rest easy with green janitorial cleaning knowing they are working in a safe, smell-free office.
Green Cleaning is Easier on Your Office
Another drawback to using traditional cleaning products is that the harsh chemicals can damage anything they are used on. The chemicals in conventional cleaning products can damage both the look and feel of your office furniture, floors, and carpets. By switching to green cleaning products, you no longer have this concern.
Green Cleaning isn't Expensive.
On top of all the benefits mentioned, getting green janitorial cleaning is not necessarily more expensive than traditional cleaning - and could even be less expensive.
There are also financial benefits to going with green janitorial cleaning. You cut down on the number of sick days employees may have to take if they have an adverse reaction to the VOCs released by traditional cleaners.
You also don't have to worry about damage caused by a toxic chemical spill if you use green cleaning products.
Can RBC Clean help me clean greener?
At RBC Clean, we have a special division called RBC Green dedicated to green janitorial cleaning. RBC Green provides top-notch janitorial cleaning while minimizing our impact on the planet.
With RBC Green, we have committed ourselves to learn about the latest green cleaning products and techniques. We can provide all the traditional cleaning services you are used to but in an environmentally-friendly manner.
Start Using Green Cleaning Products Today
With RBC Green clean, you know that you're getting the best in janitorial cleaning, as well as making the office and the planet safer! With green janitorial cleaning, you don't have to deal with harsh chemicals and foul odours. You just get a sparkling office, with no unpleasant after-effects.
If you'd like to know more about our janitorial cleaning services, call RBC Clean at 289-301-2095 or contact us here. We are located in Aurora and service all of Southern Ontario and the GTA.