Why Microfibre Is The Go To Cleaning Material For Cleaning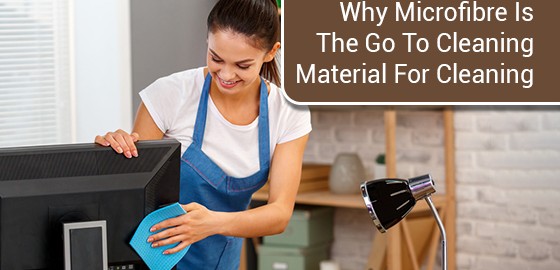 When you hire a cleaning service, it's because you have the highest standards for business. That means that the crew employed to clean your office is reliable, hardworking and trustworthy. However, not all cleaning professionals are the same. The most experienced cleaning services use a specific material that is proven to clean better than other janitorial supplies -- microfibre. For years, microfibre has been the secret weapon for office cleaning services.
What Makes Microfibre So Much Better?
You have probably heard of microfibre before. The material is commonly found in cleaning cloths and towels. First manufactured in the 1950s, microfibre is 15 times thinner than human hair. This allows the cloth, towel or mop to outperform other cleaning materials. microfibre was not affordable for widespread use until the 1990s and was not commonly used by professional cleaning services until 2001. Below are some of the more common reasons why microfibre gives you better results than conventional cleaning cloths, mops or towels.
Working with uneven surfaces: Because of the thinness of microfibres, the cleaning material is perfect for uneven surface. In an office environment, microfibres are optimal for cleaning office chairs, shelf spaces and workstations. Additionally, a microfibre mop will be more effective at cleaning stairs, ramps and other uneven floor surfaces.

Microfibres use of static charge to absorb more dirt: When microfibre is cleaned against a surface, the small fibers will rub against each other causing a static charge. This reaction will attract more dust, dirt and grime to the cloth allowing for a more effective and sanitary cleaning of the surface.

Microfibers can trap microorganisms: Perhaps one of the biggest concerns is the spread of bacteria and other microorganisms around an office. The spread of bacteria can lead to workplace illness and loss of man-hours. Microfibres are designed to trap 99% of bacteria versus just 30% from a common mop.

Microfibres are better at trapping dirt: Professional microfibre cloths and mops use split fibers which leave tiny grooves on every thread that can deter trap dirt, oil, bacteria, grease and dust. That means that microfibre cloths and maps can trap materials that conventional cloths and mops often leave behind.

Microfibre can both scrub and absorb: Many cleaning cloths and mops can either do an effective job of absorbing or scrubbing dirt. However, microfibre is able to both scrub the dirt off the surface and then absorb the dirt away from the surface. This two-in-one effectiveness allows cleaning to be done faster.

Microfibre mops are light: Traditional mops, when wet with water, can become heavy and more cumbersome to handle. This will result in a less effective cleaning job. Microfibre mops, on the other hand, are lightweight and easy for the janitorial staff to handle. That means, a microfibre mop will be easier for the janitorial staff to use in hard to reach places and result in a better and more effective cleaning job.

Microfibre provides a more environmental cleaning solution: Microfibre cloths and mops are lightweight, require less chemical cleaning solutions which results in a healthier environment. Using microfibre means that you and your office staff will not be exposed to potentially harmful chemicals on a daily basis.

Microfibre does not completely absorb liquids: Microfibre has the ability to scrub and hold dirt as well as liquid. However, unlike conventional towels, microfibre does not completely absorb the liquid. It merely holds it. That means the microfibre towel or mop can easily release the liquid which makes the material reusable and thus lowers cost.

Microfibre does not leave lint: There is perhaps nothing more frustrating than finding towel lint all over a freshly cleaned surface. In many cases, cleaning professionals will have to make another pass at the surface to ensure the lint is cleaned off. Microfibre, however, does not leave lint, thus allowing the surface to be completely cleaned after the first pass.

Microfibre does not scratch or damage surfaces: Some office furniture can be extremely expensive and ruined after one cleaning from conventional cleaning towels. Some floors can also be left with scratches after one cleaning from a conventional mop. Microfibre towels and mops do not leave any scratches on any surface which will protect your most prized furniture and floor surfaces. Additionally, microfibre materials are safe to use with glossy surfaces.
Finding The Right Cleaning Service
Finding the right cleaning professionals to work with is not easy. First, you must find someone who is trustworthy and has a track record of consistent excellence. Second, you must know that the company you hire uses the right materials to ensure that your office, industrial space or residential space is cleaned effectively. That means using environmentally friendly materials and cleaning tools that will not damage your floors, surfaces and furniture.
For over 60 years, RBC Clean has helped clients big and small maintain a professional work environment while using the best trained staff and finest products for the job. As a member of ISSA – The Worldwide Cleaning Industry Association and the Better Business Bureau (BBB), RBC Clean has a reputation as one of the top professional cleaning services available. Some of the services provided by RBC Clean include:
If you would like to learn more, call RBC Clean today at 1-866-278-8208.