What Is A High Level Cleaning Risk Assessment?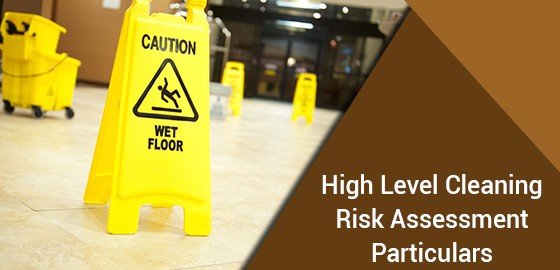 A risk assessment is used to pinpoint hazards and areas that may be harmful or dangerous. It is also used to find ways to get rid of any hazards or to minimize or control them when they can't be eliminated altogether. Essentially, a high level cleaning risk assessment looks at a cleaning site to determine what things could possibly cause harm. Once things are identified, measures can be put into place to control situations and prevent any injuries. It's imperative that cleaning staff are made aware of identified risks, and the measures in place to keep them as safe as possible.
Risk Assessments Are Important for Several Reasons
To make employees aware of possible hazards and risks;

To identify individuals who might be at risk, like cleaners, employees, and visitors;

To ascertain whether any kind of controls should be put into place;

To decide if enough safety precautions are in place, or if more should exist;

To prevent injuries or illness;

To give hazards and controls priority;

To make sure legal requirements, if any, are being met.
How a Risk Assessment Is Completed
Risk assessments need to be carried out by a person or team of people who know the area and the workings of it well. Supervisors and workers who are most familiar with the area would do well carrying out a risk assessment. The goal is finding and recording hazards that may be problematic in a work environment. In terms of high level cleaning jobs, all aspects of what needs to be done should be taken into account. Incident, accident, and near miss reports should be reviewed.
Figuring out Which Hazards Are Likely to Cause Harm
For each possible hazard, these things should be looked at:
Health and safety information regarding the hazard—things like product sheets, manufacturer information, or studies;

Occupational health and safety staff input;

Stats regarding any prior injuries, illnesses, or safety issues;

Best practice policies;

How the possible hazard may cause harm, i.e. ingestion, inhalation, etc.;

How often someone may be exposed to the hazard.
How to Keep Track of a Risk Assessment
Record keeping when it comes to high level cleaning risk assessments is crucial. Documentation will depend upon:
The level of risk;

Requirements by law;

Management systems that are in place.
Records need to show:
That a proper hazard review was conducted;

That hazard risks were determined;

That control measures pertaining to the risks were implemented;