10 Questions to Ask When Selecting a Janitorial Service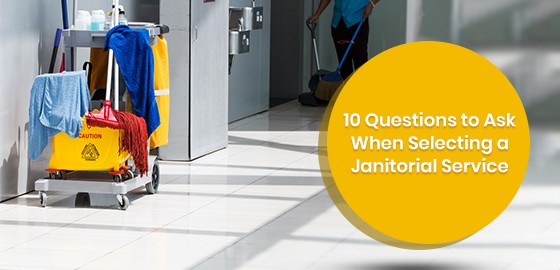 Getting help with your office cleaning is a service that almost any business can benefit from. Luckily, there are many choices available for hiring either a private or franchise cleaning company to take care of your weekly toilet scrubbing, mopping, vacuuming, and more!
The difficult task is deciding what kind of cleaning service you want to go with -- a franchise company, locally owned business, or an independent cleaner. The key is knowing what questions to ask prospective companies so you are aware of the services you will be paying for, and you don't get any financial surprises, or end up having to look for a new cleaning service a week, a month, or a year from now.
What's the Big Deal?
Hiring a janitorial service is serious business. Any facility that is not adequately maintained can result in issues that you shouldn't have to deal with in your day-to-day life. Hiring the wrong cleaning team could impact the health and safety of your business and its occupants.
To ensure you are receiving quality cleaning services, you need to trust the company you have hired to do the work.
What Can You Do?
You can ask the right questions so that you can avoid any issues with your janitorial service down the road.
Where to Begin?
Below are ten questions to help you on your way!
1. How do you set your rates?
Most janitorial services charge an hourly rate for services, while others may require you to buy a package deal or pay depending on the number of employees sent to your facility. A few questions you should consider, include:
Whether or not you can get an estimate of costs and if this will result in a "flat rate."
Does the cost of this service change based on your needs, the size of the property, or how often you require your facility to be cleaned?
For hourly based services, can you put a cap on the number of hours cleaners will be present at your facility?
Does the service you are considering provide a "not to exceed this price" clause in their contracts?
2. Do you screen your employees?
Whether you are looking into a franchise or independent cleaning option, most reputable janitorial services require background checks of everyone involved in their business.
While there are additional precautions that can be taken to prevent harm to you or your business, making sure there is consistency with who is entering your facility and whether they have a background check is a great place to start.
3. Does your business have bonding insurance?
Accidents and incidents happen, and it is a good idea to seek a janitorial service that will carry liability if something does go wrong. Hiring a company who carries bonding insurance will provide you and your business with security and the peace of mind that you deserve.
4. Do you have any accreditation?
You may not feel reassured about the company you are outsourcing your cleaning needs to, but working with an ISSA member will give you the peace of mind that your needs are being handled by true professionals. The International Sanitary Supply Association (ISSA) has over 9000 members from the cleaning industry worldwide, and working with a member of ISSA guarantees you a service that meets the high standards set by the association. This is because ISSA provides its members with business tools, products, and services that specifically focus on the cleaning industry, thus ensuring that they deliver an impeccable service to their clients.
Being proud members of this association, we at RBC Clean strive to meet the high standards set by ISSA, and offer our clients a service of the highest quality.
5. How long has your company been in business?
Experience and longevity speak to the quality of the service you are paying for. You want to hire a business that has been around awhile, who has a loyal client base, and who has a low employee turnover rate.
6. What services are included?
Before hiring a janitorial service, have a representative walk you through how a routine visit looks. What you choose to include and remove from your cleaners' list of responsibilities could impact the cost and other variables that you should know beforehand.
7. Do you provide equipment and cleaning supplies?
Who supplies the cleaning equipment and supplies can be another hidden cost you want to clear up before hiring a service. Depending on the provider, they may bring their own equipment and supplies, while others may hold you responsible for having one or both available for use.
Other things to consider, include:
If you are unhappy with the cleaning products provided by the company, do you have the right to substitute your own?
Does the company you pick prioritize environmentally conscious products and practice sustainable cleaning methods where possible?
8. How will you access my facility?
The best option for allowing a janitorial team to gain access to your facility is via a keypad lock. That way you don't have to be onsite to let them in, and you don't have to worry about leaving them a key.
If you don't have a keypad, leaving a key is the next best option. The only problem is that if you suddenly dismiss a service or the company doesn't return the key, it could be a problem to have spare keys out in the community. At the very worst, this could result in a break-in or another situation that jeopardizes safety.
9. Can I get a formal contract?
To avoid future disagreements, try to get as much as the services and details you discussed in writing. Doing this protects you and your business from unwanted stresses.
10. Are you open to feedback on services?
The janitorial service you hire should be open to hearing your suggestions for improving services and offer you compensation if you are unhappy with their work.
For more information about hiring a cleaning service, call RBC Clean at 289-80-7694 or contact us here.