10 Tips for a Sparkling Clean Warehouse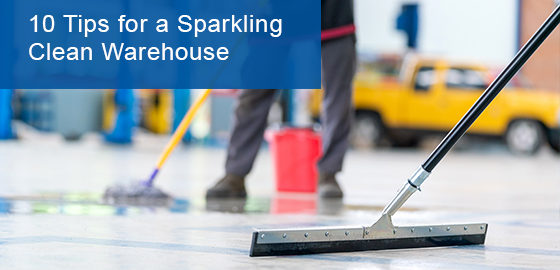 Daily operations will only run smoothly and efficiently in a clean warehouse. Indeed, organized facilities often get work done faster and more efficiently, and workers have higher morale.
For example, warehouses need to have clear walkways to keep workers from walking in zones where machinery is located. Vehicles like picking trucks need pathways to navigate the warehouse. In warehouses with lots of dust, workers are prone to respiratory issues. A dirty warehouse makes working more complicated and more dangerous.
However, cleaning a warehouse can be a daunting task if you're unsure where to start. Read on below for 10 tips from our experts on cleaning warehouses.
1. Plan and schedule cleaning days
Warehouses are huge spaces with many employees, so drafting a plan before tackling messes is a smart idea. Design a plan that addresses the most frequently dirtied places in warehouses, such as loading docks, and schedule cleaning tasks accordingly.
Individual work areas should be maintained daily for safety and productivity. This can usually be done in a few minutes before clocking out. Identify what needs to be cleaned daily, weekly, monthly, and even annually. You can avoid missing or repeating spots by using a calendar and sign-off lists.
2. Empty garbage bins
It seems pretty obvious, but many workers will ignore a full garbage bin thinking the onus is on someone else. Making waste management everyone's responsibility keeps bins from overflowing. Consistently full garbage bins create two big problems in a warehouse:
Workers stop throwing trash in bins and put it elsewhere. If the bins in your warehouse are always full, you'll likely see waste where it doesn't belong. Empty drink containers at workstations and paper towels on bathroom floors are common signs of infrequent garbage change.
Employees pile garbage on top of the bin. Unfortunately, trash doesn't work like Tetris, and trying to stack it could create hazards. Keep waste from falling onto walkways by changing garbage bins before they overflow.
Employees know where to put garbage from their lunch, but where do full garbage bags go? Keep your warehouse clean by keeping workers informed on waste management.
3. Dispose of waste properly
Getting rid of your garbage is one thing; doing it right is another. We're passionate about providing green cleaning solutions because they keep our planet healthy. Here are three items that make your warehouse greener and cleaner when disposed of correctly:
Wood pallets do not have a very long life in most warehouses. If cared for, they can be reused, preventing destroyed pallets from cluttering your garbage area.
Breaking down cardboard boxes so they are flat will save space. Remove as much tape as possible and flatten boxes completely.
Did you know that white packing styrofoam can be recycled but is often thrown in the garbage? Proper sorting is crucial if garbage and recycling are picked up at your warehouse on alternating weeks. Put styrofoam in clear or blue-tinted bags to be taken with recycling, and lighten the garbage load.
Remember that in a warehouse, time and space are money. You don't want garbage taking up space where your products could be.
4. Assess your cleaning habits
It's easy to fall back into old patterns when adopting a new habit. If your warehouse has successfully maintained cleanliness, look at what has worked. If not, an honest and thorough assessment can identify missing links and help improve cleanliness for the future.
Quarterly assessments are an excellent way to see how your warehouse cleaning needs change throughout the year. For example, warehouses may want to have their carpets and floors cleaned more often during the winter.
We've got you covered if you're not sure where to start, as we provide janitorial expertise at RBC Clean and no-charge consultations.
5. Don't forget hard-to-reach areas
Any guesses as to which areas in workplaces are cleaned least often? It's the hard-to-access and rarely seen spaces. For warehouses, the list of hard-to-access places is exhaustive. Ceiling fans, structural supports, and shelving are all havens for dust in warehouses. Even the most organized warehouses are susceptible to accumulating a fine layer of dust.
Cleaning high areas without a professional team is not recommended because of potential hazards. We offer high-level dusting to keep your warehouse clean from top to bottom and maintain a healthy environment.
6. Keep the right products stocked
You can't keep your warehouse clean without the right products. Stocked and labelled custodial rooms make cleaning products accessible and readily available. Maintain a list of cleaning products for inventory, and complete orders when stock is low. Our team can provide and monitor products for your warehouse such as:
Hand soap
Garbage bags
Bathroom tissue
Air deodorizers
7. Make your clean microscopic
Since the pandemic, disinfecting high-touch points like door handles and light switches has become the norm. Even before the coronavirus, our day porters have been using products to clean and sanitize. Using electrostatic disinfection during flu season means your warehouse will be clean even on a microscopic level! Bacteria multiply quickly, so sanitizing should be done regularly to avoid illness.
8. Keep popular items by the door
There's a risk of damaging pallets every time you move them around. Loading zones should keep products frequently shipped nearby to increase productivity and keep pallets intact.
9. Use shelves
Take some inspiration from high-rise buildings: build upward when you need more room. Like apartments or condos, shelving makes the best use of the space available to you. Not to keep pushing the metaphor, but shelves make sure that all of your products have a "home" that is easily accessible. In addition to maintaining warehouse organization, shelves increase safety by keeping items off floors and walkways.
10. Hire a professional
If you don't have the time, resources, or workforce to keep your warehouse clean, our team at RBC Clean can help. Consistently clean warehouses only happen with dedicated workers. We have over 60 years of experience in residential, commercial, and industrial cleaning services.
We are located in Aurora and service all of Southern Ontario and the GTA, including Concord. Give us a call at 1-855-493-9259 or email us here.