Cold temperatures and snowfall are not the only things old man winter is known for. Thanks to wet slush, ice, and road salt, dirty floors are something every home and business owner is forced to fight once the thick of winter hits.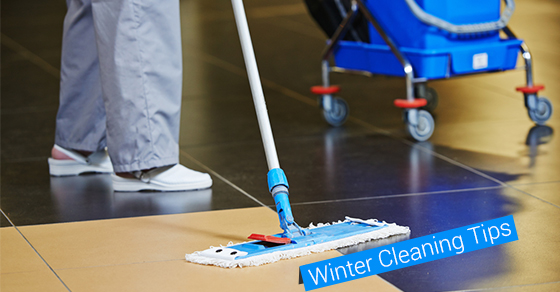 If you don't own one already, it would be wise to invest in a quality doormat, especially if your home or office gets a lot of foot traffic. The less dirt tracked inside, the less you'll be forced to clean up later.
How Are Your Floors Holding Up?
Of course, households with children and pets need to take measures up a notch. Believe it or not, there are plenty of ways you can keep your property clean and in tip top shape without feeling like you have to clean the floors every twenty minutes!
Take it from the trusted professionals at RBC Cleaning, we have been waging war against winter weather for years; you can count on our advice to get rid of the gunk and grime for good.
Fool-Proof Winter Cleaning Tips
Pay attention to the furnace filter

It is a good idea to replace or clean your filter on a monthly basis, especially during the winter season. The amount of dirt and dust accumulation are particularly high this time of year; to improve the air quality in your home and keep your heating system running at its peak, a clean filter is a must. Many homeowners underestimate how much dirt in their house comes from their air ducts and vents and don't realize how much of a contributing factor this is in keeping your house clean.

Deep clean your floors regularly

Standard sweeping and vacuuming are too often not enough to oust stubborn salt, dirt, and dust that frequently gets caught in carpet fibers and between floorboards. Steam cleaning your hardwood floors, carpeting, and rugs is a good method of attack this winter.

Don't forget your kitchen ceiling

It might seem like a waste of time, but your ceiling probably has layers of oil and grime stuck to it from all the time spent cooking indoors with the windows closed. This is true even in kitchens with hoods and other ventilation systems. The best solution is a bucket of mild soap and warm water. Scrub the ceiling, walls and every other surface in the vicinity. You'll know you're using too much if you notice any discoloration or streaking.

Wipe down the windows

To allow plenty of sunlight in your home for warmth and light, clean them with a mixture of vinegar and water. Vinegar is great for cleaning and sanitizing, and doubles as a superb floor cleaner as well.
Above all, the best thing you can do is maintain a cleaning routine. Don't let the muck and grime get to the point where it damages your floor and furniture.