Whether you know it or not, the people that professionally clean your house have a set of skills that enable them to handle high volume and ensure top quality. These skills not only save them time, but ensure that they are able to keep to their high standards and do the best job possible on other people's homes and businesses. Below are four skills that all cleaning professionals have.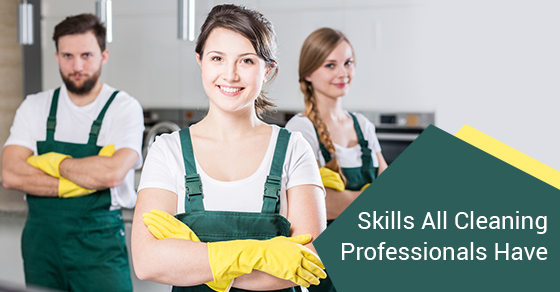 Competency
Cleaning professionals not only know what to clean with, they know how to do it methodically. Part of being able to clean both quickly and efficiently means having a cleaning routine that you stick to for each room. This is part of the competency that the pros build over many years as they perfect their craft. You can clean hard, but you also need to know how to clean smart.
Fitness
An entire day spent on your feet cleaning and scrubbing actually requires a decent amount of physical fitness. The positions that you frequently find yourself in as a professional cleaner require both leg and arm strength, as well as the ability to be constantly on the move all day long. Cleaning professionals are generally in pretty good shape and are able to tolerate the physical strain that comes with the job.
Knowledge of Their Tools
The pros know exactly what they need for each job that they do. When cleaning any room, you are always going to waste a certain amount of time if you don't have a good idea of what tools and cleaning products work best in certain rooms and circumstances. Cleaning professionals know what cleaning agent and tool combinations to use in every room and which do the best job in the shortest amount of time.
Organization
Organization is a huge part of cleaning efficiently. If you don't know how to make a cleaning list, or a checklist that you can use every time you clean a certain room, you waste a lot of time, and always end up missing something. Cleaning professionals use long checklists that they eventually don't even have to look at anymore when cleaning homes and businesses. This allows them to hit every important area, in the most efficient and comprehensive way possible.
Cleaning like a pro is not that hard once you understand their secrets. If you keep the above tips in mind and incorporate these methods into your own cleaning regimen, you can have a home or office that looks professionally cleaned all year long.