Most people have had the unfortunate experience at some point in their life; they smell mold, or mildew in their house, check the bathroom and everything looks to be perfectly clean. You search and search, checking every nook and cranny, only to find that there are no rooms, or areas that the smell could possibly be coming from. Then it hits you: it's in the carpet. Carpet mold is no fun, and something you want to eliminate as quick as possible. If you are dealing with carpet mold and need some help, below are 4 carpet and upholstery cleaning tips to get rid of mold fast.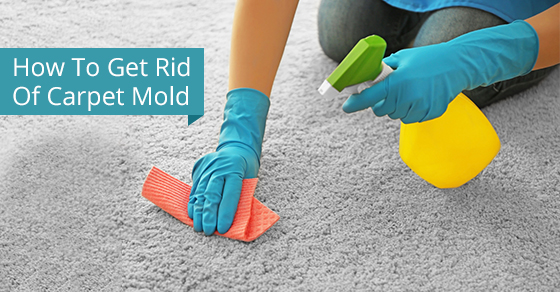 Dish washing detergent and water
This is the best method for getting rid of less severe mold situations. All you have to do is fill a rug shampoo machine – if you don't own one, you can rent – with some hot water and a tablespoon of detergent and follow the machine's cleaning instructions. It should only take you a few minutes to completely do-away with whatever mold problem you have.
Lysol and water
You can either use a carpet cleaning machine or a spray bottle for this job, but a solution of Lysol and water is a great carpet and upholstery cleaning method that will get rid of carpet mold fast. Fill a bottle with water and add a cup of Lysol and spray the solution onto the carpet. Let the solution sit in the carpet fibres for about 15-20 minutes before taking the vacuum to it, to get the dirt and mold out.
Vinegar and baking soda
Both vinegar and baking soda, individually and together, are great at stopping the growth and spread of mold. They are also great for simultaneously deodorizing the carpet. Soak the area of the carpet that has the mold infestation with vinegar and leave it for about an hour before rinsing it. Make a thick paste with warm water and baking soda and apply it to the wet carpet and let it sit for another hour. You can then use a brush, or a vacuum to remove the paste from the carpet.
Tea-tree and grapefruit seed oil
These all-natural oils have known antifungal and antibacterial properties. You can fill a spray bottle with around a cup of hot water and then either a teaspoon of tea-tree oil, or grapefruit seed oil. You simply apply the solution to your moldy carpet, let it stand for 10-15 minutes before wiping the area clean.
Moldy carpets don't have to make you dread walking into a room. With a little elbow grease, and some simple carpet and upholstery cleaning products (all natural ones at that), you can tackle stubborn mold and be back to a clean, fresh smelling room with a mold-free carpet in no time at all.