Cleaning your home can be a time consuming and boring job. But thorough cleaning so your home looks fresh and shiny will make it easier and more cost effective to perform smaller cleaning tasks that keep your home nice and tidy throughout the summer.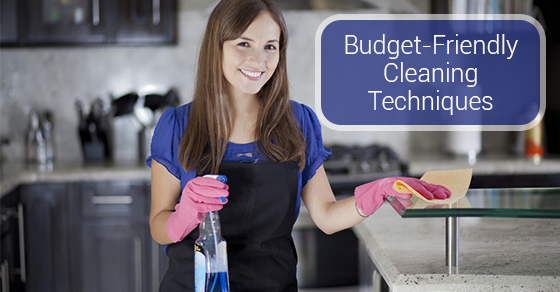 Here are some cost effective cleaning tips for summer:
Refresh your bedroom:
You need to sanitise your entire house at the beginning of each season, starting with your bedroom. It is particularly important in summer because the heat attracts insects and bed bugs, plus human smell and sweat absorb faster in the mattresses. Otherwise you'll have a lot more, costly cleaning to do. You also spend a lot of time in this room, so it should be clean and hygienic to enjoy a good night's sleep.
Trim down your recipe:
From cooking oil to barbecue sauce, reducing the amount used in your foods reduces the number of spills, as well as the amount of cleaning that needs to be done afterwards. In fact, cleanse your oven and leave it for the summer. There're lots of fresh fruits and vegetables during summer that only need, cleaning, cutting, and perhaps some light cooking. They're also healthier and tastier compared to processed foods you're used to during most times of the year.
Clean the laundry unit:
A clogged washing machine can cost you a lot more energy to perform the same amount of work than usual. Getting rid of the dirt from the lint trap once or twice a year can save you up to 70 percent in your electricity bill. You can use the savings to treat yourself this summer.
Disinfect the cooling off systems:
Consider dusting your vent systems or sanitising your air-conditioner as instructed by the manufacturer. Having a clean, unobstructed cooling system can lead to electricity savings of about 15 percent per month.
Hire professional cleaning services:
Although you're trying to keep your home clean on a budget, there are times when your rugs, furniture, and upholstery need some deeper and more sophisticated cleaning. Summer is a great time to consider professional cleaning services because most of the seasonal cleaning is done. So, the services will be cheaper, plus you could enjoy discounts and extras that help to reduce your costs in the long-term.
Lastly, be on the lookout for coupons for your favourite cleaning supplies. Consider trying some generic cleaning products, especially those on offer, as they could help you save up to 50 percent compared to costly big name brands.
For more information, contact RBC Clean today!