5 Cleaning Tips For New Mothers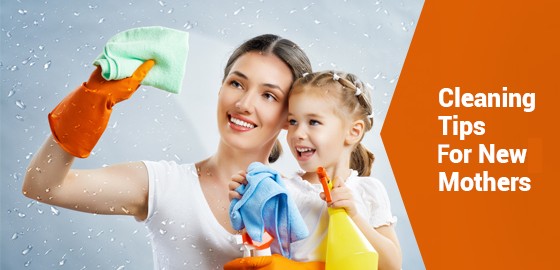 By keeping your home clean, you can provide your baby with the best possible environment to enjoy their early days. While it might be a challenge to care for your baby, commit to social obligations and complete your home cleaning requirements at the same time, we feel we can help streamline your cleaning processes in this latest post. Here we'll look at five cleaning tips for new mothers.
Maintain a Routine
Oftentimes, we require a routine to help make us more productive at home. By cleaning your home at a specific time, you can ensure you're mentally and physically prepared to take on the task.
Pick Up Items While Cleaning
When cleaning areas around the home, you can improve your productivity by picking up items such as clothing and toys and putting them away. This will give you one less task to do at a later date.
Use Rubber Gloves to Remove Pet Hair
Pet hair can be especially difficult to remove. And it can also present a danger to a young child. By simply putting on rubber gloves and rubbing your hands over the hair-coated surface, you'll lift the hair easily. You can then submerge your hands in a sink full of water to remove the hair and clean the gloves.
Purge Clutter on a Regular Basis
As a new mom, you may find yourself wanting to keep all the small baby-related items around your home. But your baby is unlikely to use many of these items in the coming years, and you can make your home cleaner by simply removing the clutter from the space. With toddlers and older children, try to throw out old art projects after they've been fully appreciated and remember to take 10 to 15 minutes each day to look around and locate items you no longer use.
Get a Plug-in Fragrance Product
Most moms recognize that their home begins to smell after prolonged exposure to pets and baby diapers. You can help minimize your maintenance routine by simply using a plug-in automation fragrance product that brings a fresh scent to the home space. Use plug-in products throughout the home to ensure fresh scents permeate the entire environment.
By following the cleaning guidance in this article, you can help minimize your stress levels and give yourself more time to spend with your child as they grow! To learn more, call our cleaning experts today!