5 Money Saving Tips on Janitorial Supplies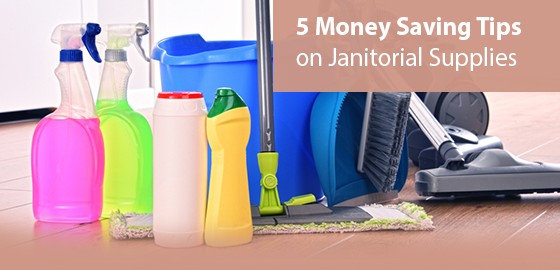 Operating costs are often amongst the more prominent necessary evils for any business. Cutting these costs can automatically lead to greater profits. Time and again procedural changes are brought about by businesses in order to optimize cost levels and ensure the most economical operations are in place.
Janitorial supplies, which can form a major chunk of expenditure, is one such area where cost-cutting techniques can be applied to bring down the overhead cost.
If you are a large organization and are struggling to keep costs low, here are five money saving tips on janitorial supplies you need to keep in mind:
1. Inventory Ledger
Keeping a record of supplies is the foremost step in keeping a control on expenditure. In the absence of an inventory, businesses often end up making last-minute purchases at exceedingly high rates, which invariably increases the overall costs. Maintaining a record book will help you prioritize purchases while making it possible to stick to a budget.
2. Upgraded Cleaning Techniques
You may be thinking, high quality equals more expense. This isn't always the case, especially when it comes to the cleaning department. Adopting the latest cleaning techniques can actually yield better long-term results. You must ensure that the cleaning company you have hired uses these latest methods and tools for their cleaning services. These include:
Using microfibre cloths and mops, which can eliminate the need for extra products
Using multi-purpose cleaners instead of specific cleaners, which can do the work of a host of different products and are also more economical
Using power saving equipment can lead to a substantial cut in the operating costs. Equipment which consumes more power, need extra watts of energy and run on high horsepower must ideally be avoided
A great tip to clean the floors is to spread matting. This will not only look attractive but will also leave a smaller area to clean. It will also help control expenditure on carpet cleaning.
3. Switching to better alternatives
You need to make smarter choices and decisions in order to save costs. Some smart alternatives are:
Using a foam soap instead of liquid soap. Foam soap provides three times the number of hand washes, is spill-proof, and washes off easily
Using brown toilet rolls instead of white ones. Not only do they cost less, but are also more environmentally friendly
Using an electric hand dryer instead of paper rolls. An electric dryer is a one-time investment, which does away with regular cleaning required for wasted paper rolls
Switching to day cleaning instead of late night cleaning is a great way to cut down electricity costs as most of the work can be done in natural light.
It is advisable to stick to one supplier for the supply of all the utilities. Bulk purchases made will help in keeping costs low. This is also a great way to maintain quality levels, without spending time and effort in testing new products
4. Training Staff
For any business to flourish it is imperative that its staff are well trained and well equipped with the latest know-how of business operations. From providing workers the right cleaning tools to encouraging them to use a centralized trashing system, the cleaning process can be made more efficient and less cumbersome.
Adopting a centralized trashing system is especially helpful, as it can help control the expenditure made on desk-side trash cans and garbage bags. The staff should also be encouraged to reduce wastage and use products more judiciously. It is also a smart move to train employers in handling supplier-relationships so as to procure attractive deals and offers.
5. Controlling Consumption
The last tip is the most obvious one yet also the most overlooked. Doing the basics right and keeping control over consumption is the most effective way to curb expenses. Using automatic dispensers instead of soaps and hand towels is one such example of controlling consumption. The dispensers last longer and provide more washes than soaps, and are more hygienic to use.
Another way to control consumption is to use cleaning solutions which are required to be diluted with water before use.
For more information about budgeting for cleaning expenses call RBC Clean at 1-866-278-8208 or contact us here.