5 Tips For Cleaning After Home Renovations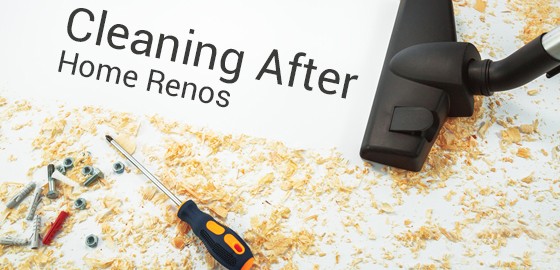 Home renovations can be a massive undertaking. The planning and work that goes into executing redoing the bathroom, kitchen, adding on to a bedroom or converting one into a home office is almost as time consuming as clean-up after the project is complete. You've just spent a considerable amount of time executing your plan, so here are 5 tips for cleaning up after so that you can start enjoying your hard work.
Scrape the trouble areas. This is especially important because it will make all of the other clean-up so much easier. Take a scraper or blade and shear off any hanging bits and pieces that are sharp, jagged or likely to appear on the floor after gravity has had its way. Doing this means you don't have to constantly be back tracking every time you notice new debris on the floor.
Give the walls a wipe-down. Dust is insidious and simply applying the vacuum to an area is not always a guarantee that you are going to get everything. Wipe the walls down first with a wet cloth if it's just dust you are after, and apply some vinegar if you are trying to get scuff marks that happened during the reno of the walls.
Vacuum. Now you can vacuum. Once you've gotten rid of the microscopic stuff, you can start on the bigger, more noticeable debris that is on the ground. Use the contoured heads for the corners and remove the head altogether to get at the ceiling and walls.
Mop the area. Make sure that you are mopping after you vacuum. Newly installed hardwood floors look great, but they look even better after a thorough mopping. Once the floor is wet, if you are still worried that dust and fine wood particles are all over the floor, you can take a rag and wipe it down once more to get the west dust that has clumped together.
Give it 24 hours. After you have made an initial pass over the area, let it settle for a day. Anything that was floating around, waiting for still air so it could resettle will have done so by the time you come back and you can finish off any remaining dust or debris pieces that might have surfaced during that time.
After the hard labour of renovation is over, the tedious work of clean-up must begin. If you are mentally and physically exhausted from the long and arduous process of transforming your home, cleaning up the area is probably the last thing you want to be doing. The above 5 steps, however, will make your life much easier and put you and your family on track to enjoying your new home without having to spend an unnecessary amount of time on clean-up.