A clean desk is the first step to a productive work environment. Even for those who have gotten used to working in chaos, having an organized and easily accessible professional work space will likely increase efficiency.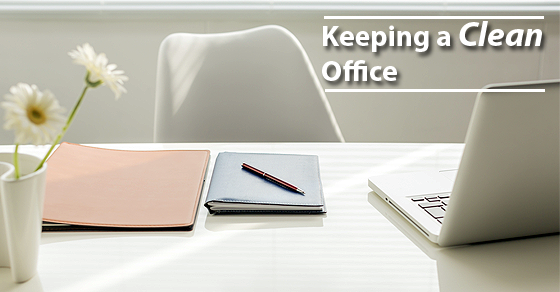 That said, it's easy to procrastinate and make up excuses about why your working space is so cluttered. "I just don't have time," "I work better this way," "As soon as I clean up a new mess appears anyway!"
Regardless of your excuse, it's still just that: an excuse. Follow these five tips to keep your office organized without too much effort:
Keep a physical inbox

With almost all office communication occurring online, a lot of people have abandoned their physical inbox. That's a bad idea. Even though most of your memos might come through e-mail, you'll most likely be receiving hard copies of documents from time to time. Designate one area specifically for incoming papers so they don't become a scattered mess across your desk.

Get a trash can and recycling bin

Most people are a lot less prone to properly discard their unneeded clutter if they have to get up from their desk to do so. Keep a trash can and/or recycling bin within an arms reach so that you can dispose of things like wrappers or unneeded paper documents in a timely manner.

Schedule Cleaning Time into Your Day

No matter how busy your job is, we're betting you can squeeze a 5 or 10 minute cleaning slot into it. Instead of turning to your cell phone for entertainment when you need a break from your computer, consider getting rid of the waste around your area instead. By tidying up a little bit everyday, you'll take care of the mess and clutter before it's even there!

Scan or Take a Photo

A lot of people keep loose documents or post-its on their desks to reference later. Instead of using unneeded space for these, scan or take a digital photo of them. Not only will you clear that space, but you'll be able to find them easier for reference when needed.

Clean Before You Leave

Although most people are in a rush to leave at the end of the day, take a step back from your workspace and make sure everything is in its proper space. If this means you have to log off for the day five minutes earlier, than log off five minutes earlier. That small bit of time will make a big difference in your day!

It's a simple way to close your day, and will ensure that you have a calm and clear work environment to walk into tomorrow!