6 Things to Do Before You Get Your House Professionally Cleaned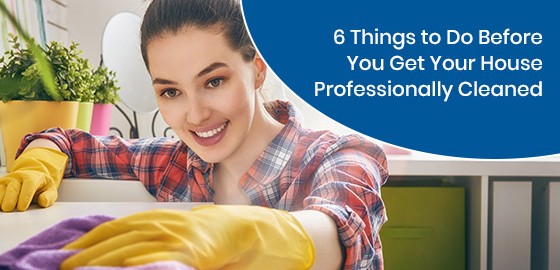 As cleaning professionals in Markham, RBC Clean understands better than most the intricacies that come with preparing for a cleaning team. Of course, your cleaners are there to do a job that should leave your home or office looking its best. However, there are some considerations to make before they arrive.
We often receive questions from our clients regarding what should and shouldn't be left around the house, if there are any ways to prepare for a cleaner, and how to ensure a cleaner gets in and out of a home. Here, we've compiled the 6 steps you should take before hiring cleaning professionals to make this process easier.
Meet the team

Before committing to having your home professionally cleaned, it helps to meet the cleaner or cleaners, if not in person, then at least over the phone or through video chat. This not only provides a sense of knowing who is entering your dwelling but also gives you an idea about their character and how they carry themselves.

Meeting the team you've chosen to clean your space might help you think of some special requests you'd like met. It also provides an excellent opportunity to ask questions and learn more about the services available to you.

Disclose any special requests

Special requests are an important part of hiring any cleaning professionals. This is the time where you can disclose specific locations in your home that you want to see sparkle. For some homeowners, this means scrubbing the baseboards; for others, it means paying special attention to the smudges on windows and mirrors.

Special requests can include anything from "Please don't clean the bathroom, I like it done a certain way" to "When you clean my kitchen, only use non-toxic hypoallergenic cleaning solutions." This gives your cleaner a more thorough insight into what you're looking to get out of this experience.

Secure valuables and file away important documents

All the cleaners who work for us at RBC Clean go through a thorough hiring process, and we trust our staff impeccably. That being said, it's always better to be safe than sorry when it comes to valuable objects and important documents. You never know when something could fall behind a desk, get damaged, or go missing.

Jewelry, irreplaceable heirlooms, and the like should be stored away from the main cleaning areas. This ensures that no matter who is in your home or what they're cleaning, you'll know exactly where they are at the end of the day.

Place pets with a sitting service

At RBC Clean, we know that pets are more than just furry creatures living in our homes; they're part of the family. As such, it's important that your pet feels safe and secure when a stranger is in your house. This is both for the safety and comfort of your pet and your cleaner.

Pet sitting services or pet daycares are a great solution for cleaning days. This isn't always feasible for pet owners, however, and most cleaners are very understanding of this. If you have an animal who might be upset at a new human in the house, or your cleaner has voiced a potential fear of animals, it might be best to place your pet in a room with the door closed just until your cleaner leaves.

Ensure doors are unlocked, or keys are provided

There's nothing worse than spending a long day at the office and expecting to come home to a spotless house, only to find that your cleaner couldn't get inside to do the job. Communication between the homeowner and cleaner is essential, as is ensuring your cleaner has access to your house.

Some clients choose to be at home when a cleaner arrives; others entrust their cleaner with a key. You can also have somebody drop by to let your cleaner in and return when the cleaner is finished with the task at hand.

At RBC Clean, we respect our client's privacy and right to choose how and when to let a cleaner into their home. We strive to build working relationships with our clients so that you feel comfortable with our staff cleaning your house while you're away. It is entirely up to you how open your home is to cleaning staff. If a cleaner can access the spaces you want to be cleaned, everybody comes out happy.

Pick up clutter and put away belongings

Finally, before a cleaner arrives at your home, you should tidy up any clutter and put away your belongings. Professional cleaners are trained to sweep, mop, scrub, vacuum, dust, and kick dirt to the curb. They aren't trained to sort through your personal belongings and identify what should go where and what should be tossed out.
The rooms you want to be cleaned must be clutter-free, so your cleaner can reach everywhere in the space comfortably. For example, if you want your children's bedrooms deep cleaned, but there are toys all over the floor, your cleaner won't be able to reach all the dirt and debris in the room.
Contact RBC Clean Today
Professional cleaners in Markham have a reputation for getting the job done right the first time, and we're proud to be part of that statistic. RBC Clean works hard to ensure that our clients have a wonderful experience both in terms of cleaning and customer service.
Being a local company, it's important to us that our clients are happy with the cleaning we provide. We're not just another big-box name brand cleaning company, our clients are our friends and neighbours, and we want you to love the space you're in.
If you're interested in having a top-notch team of professional cleaners clean your home, we're here to help. Located in Aurora, and servicing all of Southern Ontario and the GTA, RBC Clean specializes in carpets, floors, windows, construction cleanup, janitorial services, and more. Call us at 1-866-278-8208 to speak to one of our helpful staff members today.