7 Cleaning Tips to Help Prepare Your Office for the Fall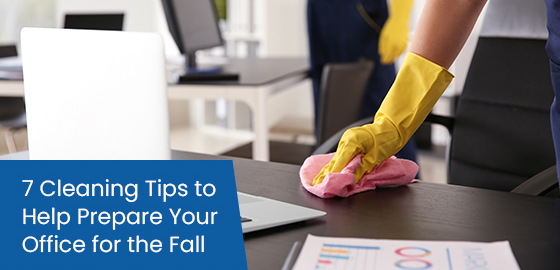 Cooler nights are becoming more frequent, the leaves are preparing to begin their fall transition, and everything is pointing to the end of another enjoyable summer.
Fall is a fantastic transition period to lead you into the colder months of winter. Soon, we'll start wearing warm clothes, pumpkin spice will fill the air, and that certain nostalgic feeling will creep in.
The autumn season is also the perfect period to prepare for winter, such as setting up "wet" areas for snow boots, readying entranceways, and decluttering. Most importantly, however, fall sees the start of the flu season.
After the experience of the last few years, we now better understand the importance of cleaning and sanitizing. Thus, the fall is a great time to jump-start this process. Office cleaning services are an excellent tool to help, but there are some things that you can do as well to prepare.
In this blog, we will be sharing our top seven tips to keep your office spic and span for fall. Keep reading below.
1. A declutter is in order
The fall is a good period to purge and declutter the office space, as we often don't realize how many items we can accumulate over time.
We are less inclined to throw things away over the winter because this means taking things outside in the cold. Thus, we can become surrounded by stacks of files, papers, and boxes, creating a type of fort in our space.
Purging things keeps your space clean and clear of tripping hazards and falling objects. Mentally, this purge also helps us to feel better and, therefore, work more efficiently.
2. Spot clean your furniture
Despite the regular cleaning and wiping down of furniture items, such as leather sofas or conference tables, doing a more thorough spot cleaning helps keep the materials looking new and lasting longer.
Removing built-up surface dirt prevents it from becoming ingrained into the fabric and causing damage. It also helps you see any blemishes or faults on the furniture so that you can replace or repair the item.
3. Clean the light fixtures
We all appreciate the lights when they come on, guiding us to our desks, safely down hallways, and into the parking lots. However, we often forget to clean them, too.
Replacing the light bulbs will help to brighten the area, but so does cleaning the fixture itself. A damp cloth and a duster will do wonders to brighten the room and help keep the bulb shining for longer.
Always remember to turn the light off before removing the cover to clean the inside. Such cleaning should be done at least once a year, and fall is an excellent time to do so.
4. Wipe down computers and other devices
The cold and flu season is approaching, and we take many steps to protect ourselves. Flu vaccines, medications, and a large box of tissues on our desk are all essential, but germs like to hide away and fester until they are ready to strike.
By wiping down your computer monitor, keyboard, tower, and even your desk phone, you keep things clean and the germs away. While breaking out the anti-bacterial wipes is a good thing, a soft damp cloth will also be your friend.
5. Clean the walls
When you first started working in the office, the walls were likely a bright white. Over time, though, that sheen wears off.
Walls do need a good wipe down and clean, just like the rest of the office. Although dirt and grime, unless glaringly obvious, will take longer to build up, you will still be amazed at the colour difference after cleaning.
Additionally, this is the quickest, easiest, and least expensive way to freshen up the space without repainting it.
6. Install coat racks and mats
Fall brings colour changes, cooler temperatures, and lots of rain. Your entranceway and high-traffic areas will, therefore, see mud and wet leaves tracked throughout the office. This leads to a clean, bright area becoming dull quickly.
Informing your staff is the first step in keeping an area clean. You can do this by:
Encouraging staff to bring a pair of shoes to change into when they arrive.
Placing mats for people to wipe their feet. Mats come in all shapes and sizes and are ideal, especially in high-traffic areas.
Having a place to hang wet coats and umbrellas that won't ruin the carpet and will all aid in keeping the fall outside.
While customers and clients are a bit harder to manage, placing signs asking them to wipe their feet or remove outside shoes will help. By providing extra things, such as mats and coat racks, however, you can all work together more efficiently.
7. Use hand sanitizers to keep germs at bay
We all use hand sanitizer when it's provided (if we don't already carry our own). However, when we sanitize our workspace, kitchen, bathrooms, and conference rooms, we are all working together to minimize the risk of spreading illness.
Anti-bacterial wipes are a quick and easy way to do this, but a deep clean is the best way to ensure that all surfaces are cleaned and sanitized.
Don't Fall Behind; Keep Everything Clean
Preparing the office for the fall season can be done without causing too much of a disruption to the working day. By working with the professionals at RBC Clean, a deep and thorough clean can be done to get you ready for autumn.
To get your free quote, call us at 1-888-493-9259 today or contact us here and let us help you get started.