8 Important House Cleaning Tips From the Pros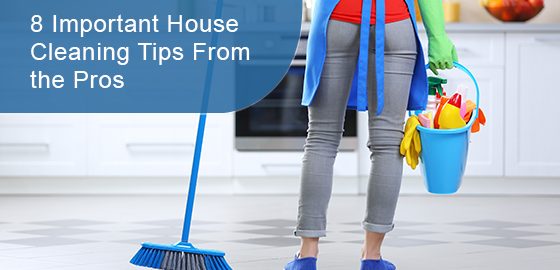 Your home should be your haven – the place you come to relax after a long day, and where you spend precious time with loved ones.
At the same time, you want your safe haven to be clean and tidy. Coming home to a messy living situation can affect your mood, health, and well-being.
Cleaning your house doesn't have to be complicated. However, you should know fundamental cleaning methods designed to help you clean your home with confidence.
With some of the best cleaning tips from our hard-working team, you can begin cleaning your home with the expertise of a professional. This guide will teach you the eight most efficient ways to clean your house.
The successful cleaning connoisseur should have a wide variety of cleaning essentials on hand. Take a look at some of our simple recommendations that will help you clean with ease.
1. Wipe surfaces with microfiber towels
These towels are life-savers for anyone looking for a sparkling home. Microfiber towels eliminate up to 99% of bacteria without disinfectants or cleaning agents. Many cleaning experts agree that microfiber is far more efficient than sponges or paper towels.
The next time you find yourself in contact with a spill, you can wipe it up quickly and efficiently with a microfiber towel. It is your choice to add cleaning products such as dish soap or vinegar to help eliminate odours.
2. Use rubber gloves when cleaning nitty-gritty areas
While focusing on cleaning itself is important, paying attention to your hands and skin is also crucial. If not properly protected, cleaning with harsh products and chemicals can leave your hands dry and cracked.
Putting on a pair of rubber gloves when cleaning areas like your shower can help protect your hands long-term and keep them soft. It also allows you to keep moving through a cleaning unprohibited, as you won't need to touch any dirt or grime with your bare hands.
3. Try baking soda for tackling food-related messes
Sprinkling baking soda on messes that are tougher to tackle, such as grease build-up, can be a helpful method in cleaning areas like your kitchen. Baking soda can be used as a mildly abrasive or scouring agent as it breaks down dirt and grime.
You can also use baking soda on stains and areas to absorb harsh odours. This includes sprinkling baking soda directly into your trash can or onto a grimy surface, letting it sit for a few minutes before scrubbing and wiping it up with a cloth or sponge.
4. Use a squeegee to clean showers and baths
Developing a small but regular cleaning habit can help make things a lot easier regarding how often you're cleaning. For example, using a squeegee to wipe down the walls and parts of your shower or bath that pick up more condensation and soapy residue can reduce the frequency you need to perform deep cleaning.
Encourage other members of your household to adopt this habit to take some of the load off of you. This way, all members contribute and take little ways to keep the home clean and tidy.
Pro Tips to Make Cleaning Less of a Chore
Cleaning isn't always fun, but there are ways to make it easier on your mind and body. Use the following tips when you find cleaning to be rougher than usual.
1. Useless products
It isn't necessary to have many fancy cleaning products to achieve a superior clean in your home. Simplifying your products can make it easier as you don't have to switch between ten different cleaning agents for different chores. Plus, it keeps you and members of your household from coming into contact with harsh chemicals.
Generally, the four main cleaners are detergents, degreasers, abrasives, and acids. To make it simpler, having just an all-purpose cleaner, white vinegar, and essential oil on hand fulfills all of those requirements.
2. Start cleaning earlier in the day
Cleaning can be tough when done after a long day of work or before going to bed. You shouldn't be losing sleep over-cleaning your home, which is why it's important to start cleaning earlier on to save you time and hassle later in the day.
Open your windows and blinds and let the sunlight in to help motivate you to complete your tasks. Cleaning while it's dark out may make you feel more tired and sluggish, and it may be harder to see dust or grime than it would be during daylight.
3. Start with the dirtiest places first
When you decide to take on a deep house cleaning, the best way to start is by tackling the dirtiest places first. Skip the rooms that are rarely used for now and focus on heavily-used areas like your kitchen and bathroom.
Sinks, countertops, toilets, and bathtubs are some of the dirtiest places of the home and should be paid the most attention to in a deep clean. Once that's done, you can move on to places like your bedroom and the living room.
4. Clean with a goal in mind
Professional cleaners often clean, intending to keep them motivated throughout the process. For instance, you might plan to have people over in on the weekend. This should keep you motivated throughout the week to clean your home, focusing especially on the areas that your guests would use.
If you don't have anyone over anytime soon, you may create a simple goal to feel better in this specific room in your home. Think about how amazing it will feel to walk into the room once it's clean and organized and how after the worst part is finished, it'll be much easier to tackle other rooms in your home.
Need Help With Cleaning Your Home?
There is more to cleaning than just wiping up messes. It takes focus and motivation to complete the job. When you may find it difficult to clean on your own, we can help you achieve that goal in mind.
At RBC Clean, we are dedicated to helping you make your life easier by taking the heavy-duty cleaning responsibilities off your shoulders. Whether it's a one-time clean or regularly scheduled, our team is there to leave your home glistening.
For more information on home cleaning services in Toronto and the GTA, contact our team of professionals today at 1-866-278-8208.