8 Necessary Things You Have To Clean Before Bringing Home A Baby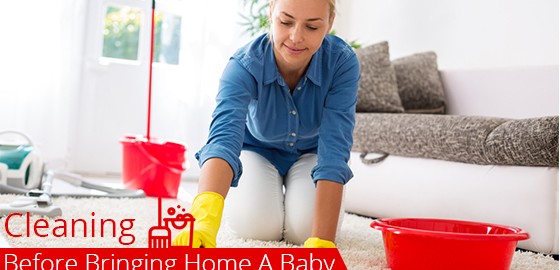 The anticipation of a baby's arrival is an exciting time in any new parents' lives. Expecting parents certainly know that there is a lot to prepare before the baby's arrival, and part of this preparation also includes cleaning your home.
Ensuring that your house is clean and germ-free is not only important for the health of your baby who is particularly susceptible to germs, but also for your general well-being - once the baby is born, your home may be temporarily neglected as a result of having to spend ample time attending to your newest family member, which can cause extra and unnecessary stress. Spending time deep cleaning before the baby is born can help bridge that gap.
Here is a checklist of things to clean before your new baby comes home:
Deep Clean Carpets and Rugs.

A baby will often spend a lot of time on the carpet. It is important to not only thoroughly vacuum it, but also rent or purchase a steamer to get rid of all of the bacteria hiding in your carpets.

Deep Clean Floors.

It is often a good idea to spend some time deeping clean kitchen and living room floors before the baby's arrival as these will naturally get neglected when the baby arrives. Floors tend to also be prone to a lot of dirt and grime given all the traffic that your house will likely receive due to guests. This dirt will quickly build-up if it was not taken care of prior to the baby's arrival. Cleaning all of the floors in your house will also improve the air quality inside your home.

Air Ducts.

Ensuring that the air-quality in your house is top-knotch should be one of your main priorities before bringing home your new baby.

Fridge and Freezer.

Once the baby arrives, chances are you will have a lot of family and friends bringing over meals. Get rid of any expired food and wipe down and disinfect the fridge. Additionally, don't forget to organize it. This will make reaching for baby bottles or figuring out what to have for dinner a lot easier.

Your Bedroom & Living Room.

Your newborn baby will likely be spending a lot of time in these two areas of the house, especially for the first few months. Devote some extra time to ensuring that the room is free of dust (don't forget the baseboards!) and that the air quality is clean for your new baby.

Mattress and Bed.

This is especially important if you plan to have your baby sleep with you. Flip your mattress and clean sheets and your duvet or comforter as well as pillows and pillowcases.

Sanitize baby bottles and nipples.

Although these will likely come clean from the store, they will still need to be properly sanitized before they're safe for the baby to use.

Wash Linens.

Don't forget receiving blankets, bibs, and other material items the baby will come in contact with. Ensure that your detergent is organic and safe for babies.
For those who are expecting a new baby soon, you might want to consider a professional cleaning service to take care of all of the work for you. This will allow you to better relax and enjoy those last few weeks or months before your due date! Contact us today for more information.