Hiring a cleaning company is an important decision. Keeping your home or business clean is imperative for both aesthetic and health and safety reasons, but you might well have a plethora of individuals or businesses to hire who offer the same basic services. So the question remains: how to choose?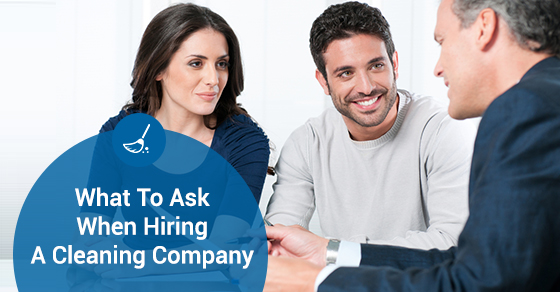 We have compiled a list of questions you should ask prospective hires –and yourself– to ensure you're getting the great service you deserve.
Individual or company?

First thing's, first: should you hire an individual or a company to take care of your cleaning needs? Both possess advantages. A individual offering a cleaning service will probably cost less than a company. However, they will also likely not have as flexible a schedule and will take much longer to do big jobs. A company is also likelier to carry liability insurance, which brings us too…

Do you have insurance?

You should expect all professional cleaning companies to carry liability insurance. This way, if your possessions or property become damaged during the process of cleaning, the company's insurance will reimburse you, hassle free. Hiring a company without insurance is not advisable, as there is no assurance that they could pay for any damages you may incur.

How much do you charge?

As when hiring anybody to perform any service, you must workout the details of payment beforehand. Companies will provide you an estimated cost based on the number of hours needed to do the job. If you are concerned about overage costs, you can set a hard time limit. If you wish to employ a cleaning company to do regular jobs, many companies will offer a flat rate based on the time and cost of the first or first few jobs they did for you.

Can you give me a task list?

Asking for a check list (or giving them one) of the tasks that need to be done will clearly communicate what you expect them to do.

Do you provide your own supplies and tools?

Most every company will bring their own tools (mops,vacuums, etc.), but not all bring all their own supplies (such as glass cleaners, disinfectants, and so on). Make sure to ask them beforehand about this and that any supplies they use are to your standards, ie: environmentally friendly.
For the best clean your home could get, contact the RBC team today!