What's the Best Time to Clean Your Windows?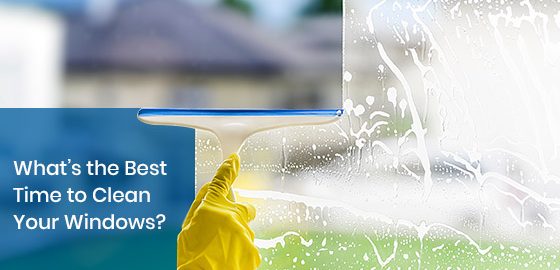 We use windows every day to see what the weather is like outside, check on traffic, monitor activity outside our office buildings and homes, or to enjoy the view. When windows are dirty, it makes it difficult to see and also take pleasure in what we see. Nobody wants to stare at a beautiful sunny day through a grimy window covered in streaks and water spots.This is where window cleaning services come in handy.
For many, thoroughly cleaning the windows is a chore. It takes a great deal of time and energy to clean the inside and outside of each window, especially those on the higher levels. In fact, some office buildings and condos are so high; it's impossible to clean them without the help of an expert. Professional window cleaning services can work on all the hard-to-reach windows and have them looking shiny and new in no time.
So, when is the best time to call in the professionals and have your windows cleaned? At RBC Clean, we know a thing or two about cleaning windows, and we want to share our knowledge on seasonal window cleaning. Here's what you should know.
Come Rain or Shine
There's a common misconception that cleaning windows during the rainy season is a waste of time, or that waiting for spring to pass is best because you can enjoy the clean, streak-free windows longer. However, this isn't true. A properly cleaned window should be resistant to streaks left by rainwater. So, while we don't recommend having your cleaners up on a scaffold working to clean windows during a thunderstorm, it's perfectly fine to clean them on a clear spring day.
Spring is one of the best times because of all the blue sky and sunshine you get to experience after a long grey winter. While there are a few rainy days to work through, having a clear view of budding trees, birds, and flowers is sure to improve morale and increase office productivity.
Avoid the Cold Stormy Season
A little rain is nothing a clean window can't handle, but trying to maintain your windows in the cold stormy winter is another thing altogether. You don't want to have window cleaners outside the window as snow and wind blow through town. Therefore, if you want clean windows during the winter months, it's best to get your cleaners in again at the end of autumn, just before the cold and stormy winter weather hits.
Of course, there are plenty of clear, snow-free days during the winter, and these are the perfect times to call your window cleaners back in for a touch up before the next blast of snow makes it impossible to get up there.
Reap the Benefits of Summer Weather
Not everyone can take a long break during the summer months to bask in the sun's warm glow. This is when a nice clear window makes the biggest difference in morale and productivity, especially in offices. Having your team in a well-lit office and seeing the clear blue sky outside makes it easier to spend the day at work when others are out barbecuing or splashing in a pool.
Summer is also a great time to have your windows cleaned because they're quick to dry, with minimal falling leaves and debris from nearby trees to dirty them again. To maximize the benefits of hiring window cleaners, the early summer months are the best time to call in the professionals. Booking early is also important because this is one of the most popular times of the year to have commercial windows cleaned. Many businesses take advantage of the beautiful view and request cleaners to come to wipe away months of grime and spots to reveal the summer beauty.
Which month is best for window cleaning?
We've touched on the topic of different times when window cleaning is most successful, but the question remains: which month is best for window cleaning? The answer is simple - anytime! As long as your cleaners can safely reach your windows and the winds aren't so high that there is a danger of falling, a professional cleaning company will take on the task and leave your building looking sparkly and new.
Many professional cleaning companies will recommend having regular window cleanings during every season. This is because once you pause your cleaning services, debris and dirt start to build up. This makes it difficult the next time your cleaners try to wipe them down. Therefore, what some office managers avoid to save money on window services might cost more later when those catchup services take much longer than normal to get the job done.
There's no real wrong time to have your office windows cleaned. Just remember that it's always best to have a professional team involved because they are trained to use the correct tools and cleaning supplies, and safely reach heights that would be dangerous for a novice.
Contact RBC Clean
Hopefully, this blog has been informative and given you some perspective when your business would like to schedule professional window cleaning services. Being a local Ontario company, we're always happy to hear from businesses within our community looking to partner with us. Supporting local businesses supports our local economy, and there's nothing more Canadian than being there for one another.
Check out our website for commercial, industrial, and residential cleaning options. Whether you're in a high rise or a small office space in the center of town, we've got the tools and know-how to get your windows clean year-round. If you're interested in knowing more about RBC Clean and our window cleaning or other office cleaning services, we invite you to call us at 1-866-278-8208.