Your bathroom should be a room where you can enjoy a relaxing bubble bath, but this small room is often the source of unpleasant odors. However, there are several easy ways you can keep your bathroom smelling fresh between cleanings!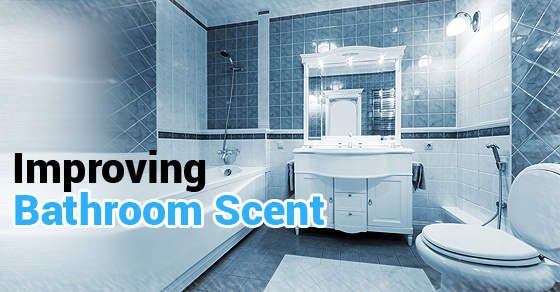 Avoid damp surfaces and fabrics
Musty, unpleasant odors are often simply caused by dampness. Steam and humidity cause mildew. If you have a window, open it to let the steam waft away after a hot shower. If not, ensure the fan remains on until the bathroom is clear of steam. Wipe damp surfaces between cleanings, and train your family to get into the habit, too!
Make sure your towels and shower curtain can dry thoroughly. Damp towels and shower curtains contribute to that unpleasant, stale smell. Install enough towel racks so all your towels can spread out and dry. And of course, wash your towels and bathmat regularly.
Spread your shower curtain wide after every shower so it won't develop mildew. If your shower curtain does smell of mildew, wash it in the washing machine.
Essential oils
If your bathroom is clean and dry, you can add your own signature scent with essential oils. You can purchase an oil diffuser, which is plugged in and which creates a light mist. You could also use an essential oil burner, but these shouldn't be left unattended. Alternatively, fill a spray bottle and spritz the bathroom for a blast of pleasant scent. Use about 10 to 15 drops of essential oil with 4 ounces of water will be strong enough to make a difference without overpowering the room.
Choose your favourite essential oils. Lavender is great for creating a calm atmosphere, and citrus oils are wonderfully vibrant, and may be better for adding energy to your morning routine.
Gel air fresheners
You can easily make your own, personalized and eco-friendly gel air fresheners which you can keep in your bathroom. This recipe is from OneGoodThing. You need:
10 drops essential oil
4 envelopes unflavoured gelatin
salt
2 cups water
Mason jars (or other heat-safe containers)
Heat 1 ½ cups water in a small saucepan, and add 10 drops of your favourite essential oil. Add the salt. Stir to dissolve, and add the gelatin. When the gelatin has dissolved, remove from the heat. Add the remaining water. Stir, pour into mason jars, and leave to cool.
You can decorate your air freshener with food colouring, or marbles, or silk flowers, if you choose. Try matching your bathroom décor theme!