Easy Cleaning Tips For Your Home's Interior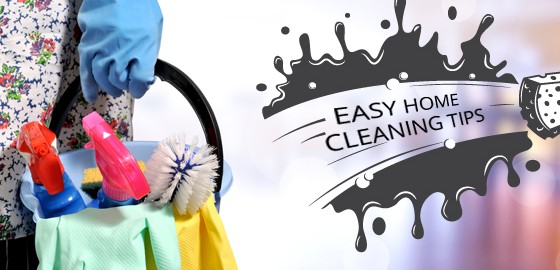 Being put on house-cleaning duty isn't always fun or exciting, but it still needs to be done. Unless you want your home to look like a pigsty, get ready to bust out the broomsticks and vacuums!
What most people are busy dreading their cleanup, they don't realize that it doesn't have to be difficult or overly time consuming.
Believe it or not, there's an art to cleaning that professional contractors follow which can dramatically reduce labor times without missing any key areas.
When cleaning your own home, we encourage you to adopt the "clean smart, not hard" mindset. Your time is valuable! Instead of wasting it, change up your cleaning routine to be more officient. Trust us; it definitely pays off!
How to clean your home like the pros
Given the law of gravity, you should always leave the floors for last. Dirt and debris are often stirred up and forced to go airborne when counters are wiped and curtains dusted, and they eventually settle on the ground. Therefore, it makes little sense to start here, when doing so will cause you to double back.
Fan blades are likely one of the most annoying items on your cleaning list, but a simple trick can save you a bunch of hassle and potential headache. Dirt accumulates on these surfaces like no other, and we have all had the bad experience of inhaling a few dust bunnies.
If you do not have access to a microfiber cloth or magnetic fiber that work wonder at capturing these particles, an old pillowcase is an excellent alternative. The main reason being you can simultaneously clean and grab dirt without making a mess. Dust gets trapped inside the pillowcase and stays put. Enough said!
Use rubber gloves to remove stubborn pet hair from upholstery. This is a lot faster than using a vacuum cleaner, and reduces the risk of damage to your expensive furniture. When it comes to the flooring, do corners and edges first with a little elbow grease so you don't have to struggle trying to get your mop in uncomfortable angles. This way when you do bring out the mop, you only have to worry about one large, simple surface.
Dirt congregates here and affects your indoor air quality when not removed. Hardwood flooring is best served by a damp mop, as this prevents potential absorption and warpage. An equal solution of white vinegar and hot water is a cheap and safe cleaning solution that also sanitizes!
Follow these steps on a routine basis and we guarantee your home will look sharp for years to come.