With the summer sadly gone now, many of us turn our attention to our homes, preparing them for the winter and the hectic holiday season. While the weather is still temperate, fall is the perfect time to organize, clean, and spruce up our homesteads.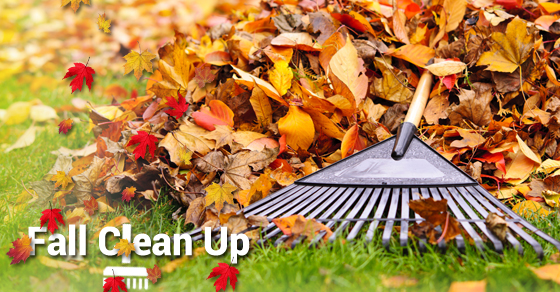 Start With your Backyard
Clean and store away the patio furniture. (But maybe leave a couple of lounge chairs on the patio – fall is such a nice season to sit and enjoy the changing colours!)
Remove all water from garden hoses, and store them away. And if you're lucky enough to have a sprinkler system, have it blown free of water.
Inspect your gutters and downspouts. They need to be cleared of leaves and any debris before the rainy season.
If you have a garden, the beginning of fall is a good time to add compost or manure to garden beds and plant spring flowering bulbs. This is actually a pleasant chore – it will remind you that spring is can not that far away!
Rake and compost any garden debris such as vegetable plants, fallen fruit and leaves. Then, fertilize your lawn.
Inside the House
Clean the windows to let all the sunshine in. You'll need as much light as possible coming through your windows during the darker days of winter!
Vacuum fabric blinds, and wipe down vinyl shades. If your window treatments are made from cotton, polyester, wool or rayon, they can be thrown into a washing machine. Make sure the setting is on delicate, though. Silk, lace, linen and satin drapes or shades should be taken to a professional cleaner.
It's sometimes surprising how much dust settles on our vertical walls. Dust or wash them — right away you'll see how much fresher your rooms will smell. Don't forget to dust and clean your ceiling light fixtures.
Vacuuming your carpets may not be enough. Check them out to see if you need to have them professionally cleaned.
If your wood floors are dull or have scratches, you can have them professionally scuff-sanded. If they are in a really sorry state, a complete refinishing may be in order.
Fabric sofas, couches, and armchairs are such good receptacles for dust! Spot-clean and vacuum all your upholstered furniture.
In preparation for all those home fires during the winter season, have the fireplace professionally inspected and swept. To make sure your furnace is operating at optimum during the winter, change the filter.
The kitchen is always the heart of the home — it's a place where most family living takes place, so it needs a thorough cleaning. Those family dinners have been wonderful, but all that cooking may have splattered much grease on the kitchen cupboards and walls. Wipe them down, and while you're there, take the opportunity to declutter the shelves, replace liners, and reorganize your dishware. This re-org will make it so much easier for you when the time comes to prepare your holiday feasts. Also check the grout lines in your tile floor. Have they darkened with all that traffic? There are many cleaning grout solutions available, so you can grab a toothbrush and lighten them up them yourself, or hire a professional who will do a thorough cleaning (probably much more efficiently).
Since fall is usually the time to put away summer clothes and bring out warmer clothes anyways, take the opportunity to straighten the closets. Re-organize and declutter. Pack up the stuff you haven't worn for a few years, and take them to your local charity retail outlet. (If you haven't worn an outfit for several years, chances are you will never wear it, but it just might be something someone else has been looking for!)
Prepare the family beds for warm and cozy winter sleep. Clean all bedding: comforters, pillows, duvets, blankets. And to ensure a more comfortable sleep and the longevity of your mattresses, turn the mattresses front-to-back and end-to-end. Happy dreams!