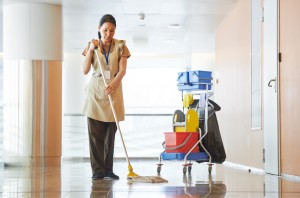 Royal Building Cleaning Ltd. was founded in 1956. It has grown successfully over the past 58 years and today in 2014, it is one of the most trusted cleaning services in all of Ontario. How has it secured this reputation for so long? Well, the list of reasons goes on-and-on, but to give you an idea, we've narrowed down a few.
1. We listen to our customers.
Simply put, we listen to what our customers want and need, and we provide for those needs! We design flexible programs tailored to your specific requirements, and offer nightly/daily, biweekly, weekly, or monthly services to suit you.
As well, all customers have 24/7 access to management staff in case of questions or concerns.
2. We "keep with the times"
Although we may be an older company, we make an effort to due business the modern way and adapt our methods along with industry standard. We always use the most modern equipment and state of the art techniques. We also implement and carry out comprehensive recycling programs, and use the latest, most environmentally friendly cleaning systems available.
3. We're local.
Help support your local economy, and hire a 100% Canadian owned and operated cleaning company, like Royal Building Cleaning. We started in the GTA, and we've been here over 5 decades.
4. Top quality is guaranteed every time.
What's the point in hiring somebody to clean your workplace or home if you're going to have to get somebody else to "do it right" afterwards? At Royal Building Cleaning, we guarantee the job will be done right the first time. Quality control is very important to RBC. We constantly monitor the servicing of our client's premises with unscheduled inspections and by requiring written reports, and if you're unhappy, we're available 24/7 to listen to your concerns and remedy the situation!
5. We've got the track record to back us up.
A cleaning company doesn't thrive for over fifty years without being good. At Royal Building Cleaning, we've got the track record and customer testimonials to back us up. Don't believe us? Visit our customer review page.
For over five decades, we've been providing companies and households all over Ontario with best-in-class cleaning service, and we've got the reputation to prove it. There's simply no beating Royal Building Cleaning when it comes to services offered, quality of work done, flexibility, and accessibility. That's why we've been Ontario's top-notch cleaning company since 1956!