There are a bunch of hard to reach, tough to clean areas of the house that we all dread having to clean. Even with our best intentions, it can be nearly impossible to really do a thorough job in some of these places, and we can end up spending a lot of time for very little in the way of results. If you are at your wits end over what to do about these difficult spots, below are some tips that will help you keep these tough areas clean.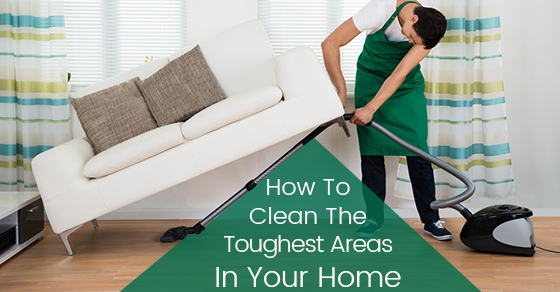 Chandelier Spray
Cleaning a chandelier can be quite the hassle because of all the parts that require individual cleaning. The old-fashioned way of taking the chandelier down and taking it apart requires too much time. Opt for chandelier spray. Simply place a tarp or some garbage bags on the floor below, spray the chandelier thoroughly, and the droplets that fall of should carry with them any dirt or dust that was on the light fixture.
Heated Sponges
Cleaning dirt in the kitchen can often be tough, especially when certain things have had a lot of time to adhere to surfaces. To avoid having to scrub yourself into a sweat, microwave a damp sponge for around thirty seconds and the heat will make dirt and stuck on food much easier to take care of.
Wet Jets
Traditional mops have gotten a free pass for far too long. What they essentially are is outdated germ dispersal units, carrying dirt, grime and bacteria from one area to another. You can pick up a wet jet device for 20 bucks and it does a much better job cleaning and actually eliminating bacteria and germs.
Microfibre Cloths
Cleaning dust, especially off windows and glass surfaces, is not effectively done simply with paper towel. The best tool for the job is a microfibre cloth which uses ultra fine fibres to create static electricity which will then pick up the dust and dirt. A microfibre cloth should be good enough on its own, so you don't really need to use any extra sprays or chemicals, but if you want to, that is always an option as well.
Plastic Putty Knives
Plastic putty knives are the best way to remove hard to get at soap scum from sinks and drains. Scrubbing is sometimes simply not enough to tackle the most stubborn soap scum, you need a scraper to loosen the grime, which you can then wipe away with a sponge.
Cleaning is very few people's cup of tea, especially when you know your efforts might have little to no effect. Make cleaning those hard to reach areas efficient, and as painless as possible by incorporating the above tools and tactics into your cleaning regimen.