Compared to regular day-to-day cleaning, deep cleaning takes a lot more time as you need to take care of all those out-of-sight, often-neglected areas in order to reduce the clutter, reduce allergens, and make your home safe.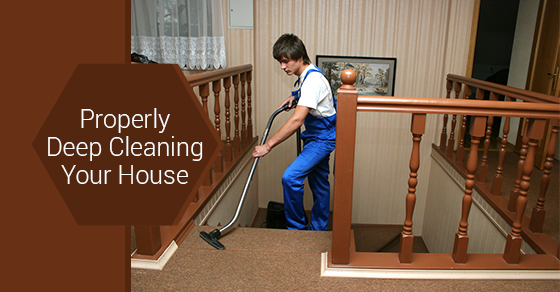 Deep cleaning usually occurs once or twice a year, so there are many areas that need to be cleaned. A top-to-bottom cleaning style is preferred to the room-to-room approach so that all the dirt and dust that is stirred up along the way can be removed in a single final sweep. You typically start with pre-cleaning and doing the top and mid-to-top zones, and then finish off with the mid-to-bottom and floor zones.
Here is how to properly deep clean your house:
Stage 1: Pre-clean
This step is designed to clear the surface clutter and put things in order so you can be more organised when you start to clean deeper than usual. You can:
Pick up clutter as you move from room to room, and put all misplaced items in their rightful place
Clean the dishes and put them away
Clear and wipe down your kitchen counter
Stage 2: Top Zone
This refers to the high spots above your head that are usually neglected, and include high windows, ledges, light fixtures, ceiling fans, and air vents. You can:
Vacuum or dust upper ledges and above the cabinets
Dust or clean the ceiling fans
Clean the air vents and replace air filters
Clean high windows
Dust or clean light fixtures
Remove cobwebs
Change light bulbs
Stage 3: Mid-to-Top Zone
This includes anything at eye level, like the windows, shelves, and tall furniture. You can:
Wash, iron, and re-hang curtains
Use a cloth and vinegar to clean blinds
Wash windows
Dust bookshelves and other tall furniture
Dust clocks, mirrors, pictures, and other wall hangings
Stage 4: Mid-to-Low Zone
This includes anything at waist level, such as the furniture, bathroom fixtures, and beds. You can:
Vacuum/spot clean upholstered furniture
Clean leather furniture Polish wood furniture
Remove stains (rub alcohol on a microfiber couch)
Dust surfaces
Wash the sheets and change bed linens
Clean bathroom sinks and counters
Clean toilets
Scrub bathtubs and showers
Use vinegar, baking soda, ice cubes, lemons, and rock salt to clean the kitchen/cabinets/appliances
Stage 5: Bottom Zone
Cleaning the floor and baseboards should be done as the final cleaning step. Take your time to clear out any lingering dirt in the corners as you sweep, vacuum, and mop. You can:
Vacuum carpets and rugs
Steam clean unusual carpet stains using an iron or use vinegar and baking soda for oil-based stains
Dust baseboards
Sweep hard floors
Mop and spot clean tile/linoleum floors
Sweep the port and front/back steps
The top-to-bottom approach is best when you're getting some help, like from your kids, so you can clean different rooms/areas simultaneously. Depending on how big and dirty your house is, it can take you one or two days to finish. Some areas may involve a lot more work, such as the kitchen, bathroom, and garage, requiring more than a day to complete the cleaning. If your cleaning proves to be too much for you to handle, contact the pros at RBC clean! Our team of expert cleaners will make sure that every area of your home has a proper, thorough deep clean.