How To Master Green Cleaning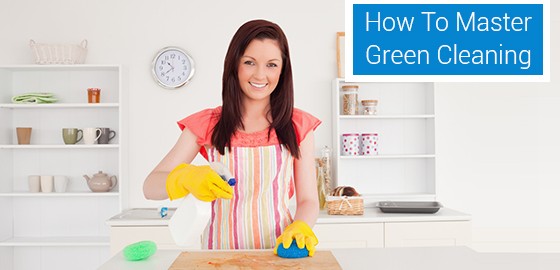 If you switched from using all those petroleum-based household cleaning brands to ones marketed as "green" in order to clean your house in a more eco-friendly and healthy way, congratulations – you are heading in the right direction.
However, your green cleaning can attain an even deeper shade of green. All you have to do is to turn to four basic ingredients found in your pantry: vinegar, salt, lemon juice, and baking soda. Various combinations of these ingredients will yield cleaning solutions that are not only truly organic but also quite a bargain.
Green clean your glass and windows
You don't have to use ammonia-based window cleaners. Try 4 tablespoons of lemon juice mixed with a half a gallon of water. Mixing rubbing alcohol with witch hazel is also an effective solution for cleaning glass and mirrors.
And yes, paper towels are convenient to use, but this practice is not very environmentally friendly. Try using newspapers or even an old cotton T-shirt – these recyclable and natural materials are just as effective in leaving your windows streak-free.
Cleaning and polishing furniture the green way
Use a mixture of 2 parts olive oil to 1 part orange juice to make an earth-friendly furniture polish. Apply with a soft cloth, and shine it up. Unlike all the other petroleum-based furniture polishes on the market, this one presents absolutely no harm to your family, and there is an extra benefit: the left-overs can be used on any salad!
To remove stains on your wood furnishings, remove it with a thin paste of salad oil or lemon oil and salt. And to get rid of stains on vinyl-covered furniture or tile floor, just rub the area with straight lemon juice.
Mopping the floors with an earth-friendly solution
A vinegar-and-water solution will clean most types of floors, including tile, wood floor, vinyl or linoleum. Just mix 1 cup of vinegar with 1 gallon of warm water, and mop. When cleaning a wood floor, your mop should be thoroughly damp but not soggy
Green cleaning of kitchens and bathrooms
For most stains and muck in these heavily used areas, an all-purpose cleaner/disinfectant made by combining one part vinegar to 1 part water with a few drops of tea tree oil will do the trick. For tougher stains, just pour some baking soda on a damp rag or sponge and scour.
If the stain is well-entrenched, make a thick paste of baking soda and water, cover the stain with it, and let it stand for about an hour. Your earth will thank you for using this natural product instead of harsh commercial scouring powders.
If you clean your house yourself, it is easy to make your own cleaning solutions with all natural ingredients. Green cleaning has become so popular that most cleaning agencies today offer environmentally friendly cleaning systems. Be sure to ask for that type of service if you're looking to hire a professional cleaning company.