How to Tell if Your Condo Is Being Cleaned Properly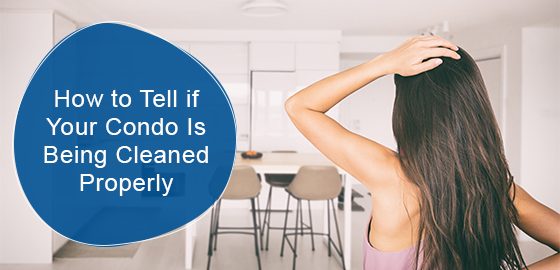 If you have been living in a condo or apartment during COVID-19, you may be questioning whether your building's cleaning company has been doing a good job. It is more important than ever for professional cleaners to use professional-grade products that clean and disinfect surfaces, and appropriately use them. Common areas of any condo or apartment building that need to be cleaned daily include elevators, lobbies, reception areas, and mailrooms. There may also be washrooms on the main floor or shared spaces and amenities such as a party room, library or gym. If you want to make sure your condo building is being cleaned properly, keep reading for the most common signs that your building is up to par.
Washrooms Are Stocked and Hand Sanitizer is Available
One of the tell-tale signs that professional cleaners are properly servicing your condo/apartment building is that the washrooms are always stocked with toilet paper, paper towels and hand soap. This is especially important in maintaining the personal hygiene of guests or visitors who come and go. In addition to this, hand sanitizer stations should be readily available and easily accessible. Keeping these amenities stocked for public use and common areas should be a top priority for professional cleaners.
Shared Spaces Look and Smell Fresh
Usually, you can tell how clean an area is just by standing in it. If you want to see how good of a job your cleaners are doing, simply evaluate this by going into the spaces you are checking up on and seeing how clean they look and smell. Are there foul odours or leftover crumbs in crevices? Do the surfaces look polished and gleaming? Is there dust circling in the air? Take a good look and ask yourself if this is a place that you would feel comfortable or safe spending time in.
Clean Carpets, Windows and Surfaces
Another place to look for clues of cleanliness in your condo buildings is the carpets, windows and table surfaces. Are they dirty with leftover crumbs, grime and stains? Or, do they appear to have been recently cleaned? These are areas of your condo building that will appear the dirtiest when they have been neglected.
Social Distancing Measures are In Place
A condo building that values cleanliness and the health and safety of its residents will have other measures in place to ensure that COVID-19 does not spread throughout the building. Cleaning will certainly not be the only measure that they rely on. For example, there should be signs or indicators that masks are to be worn in common areas, and social distancing should be followed. Elevators will have reduced capacity levels to allow for social distancing, and residents should follow these guidelines.
Seeing and Recognizing Cleaning Staff
Another question to consider is whether you see cleaning staff in the building at any given time. If you can't think of one single time that you have seen a cleaner, it is unlikely that the act of cleaning happens very often in your condo building. A building that is being cleaned regularly will have a cleaning crew there daily or tell-tale signs that cleaning has been done, such as 'wet floor' signs and such. While your building's cleaning crew may be operating on a schedule that makes it unlikely for you to bump into them, there should still be some signs that they were there or that they've cleaned an area.
Decreased Infection Rates Within The Building
Of course, results speak for themselves. Condo or apartment buildings that are being cleaned regularly and properly will have lower COVID-19 spread and infection rates. This is because the cleaning crew will be acting promptly and efficiently to clean the premises regularly and address any problem areas asap. They will also be using the right cleaning products to sanitize and disinfect so that germs and bacteria are killed. If you notice a rise in COVD-19 infections and reports within your condo building, it may be a sign that cleaning is not where it should be.
Remember, there are special services in place for condo cleaning, as certain areas require more attention and special care. When hiring a professional cleaner, always look for a reputable company that is established and trustworthy. This is one of the best ways of ensuring that you will get what you paid for.
For more information on condo cleaning services in Toronto and janitorial services, please call RBC Clean at 1-866-278-8208 or contact us here.