How to Tell if Your Office Is Being Cleaned Properly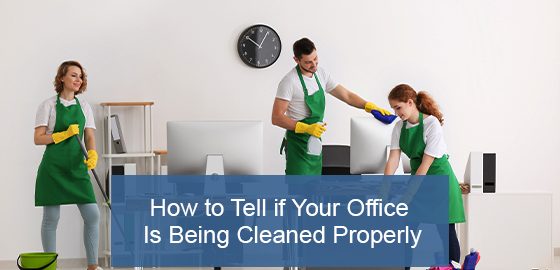 Professional office cleaners can save your business time, money, and energy. They can get the job done efficiently and thoroughly, and be a literal lifesaver when you're in a pinch. However, are their services always up to par? How can you tell good service from poor service, and how can you check that the job is being properly done?
While you will definitely need to take a closer look at your work surfaces, furniture, and air quality, we have some tried and true tips so that you can ensure your office is being cleaned to professional standards. Read our article below to gain some insight into how professional cleaners and emergency cleaning services work so that you can make sure you're getting what you paid for.
Fingertip Test
One of the easiest ways to determine whether a surface (practically any hard surface) is clean or not is to swipe your finger along it to see what it picks up. Is your finger left dusty, black, and dirty? If so, then it may be time to reconsider your cleaning methods. If you are uncertain whether the professional cleaners you've hired are doing the job properly, you can usually tell by testing a surface with your finger or giving furniture and upholstery a good look to check for any remaining stains, dust, or dirt.
There also shouldn't be residue left behind on surfaces or furniture from cleaning products. If you notice any of these things and it is a common occurrence, you may want to hire a new cleaning company or have a discussion with your current cleaners to figure out what is really going on.
Difference In Air Quality
Another tell-tale sign that your office or workplace is being cleaned thoroughly is the difference in air quality and freshness. With professional cleaners, you should never have foul smells or odours lingering in your office. The air should be free from dust and allergens that cause sickness and irritation. While many offices prefer a scent-free environment (and cleaners will be mindful of this), you should still be able to notice when the air is not riddled with pollutants, dirt, and dust, as keeping it this way is part of a cleaner's job. We also recommend keeping on top of your HVAC system maintenance and replacing your filters regularly.
Employee Attitude
Overall, employees will feel better coming into an office that is well maintained, regularly cleaned, and fresh. They will enjoy a clutter-free environment and not have to worry about taking on additional cleaning duties around the office just to have a safe, clean space. When the needs of your employees are being met, they will be productive and happy to come into work. When your employees are happy, healthy, and not negatively impacted by their environment, you will definitely see the difference and reap the benefits.
However, if you notice that employees are regularly cleaning up after themselves, complaining about messes, bad odours, or uncleanliness in the office, then you will know there is a problem and can strive to make a change from there.
Responsiveness and Consistency
Reputable, professional cleaning companies will be responsive to the needs of your business while also maintaining consistency with their standards. With a professional cleaning company, you should be getting everything you pay for, and any concerns you may have will be addressed promptly and professionally. If you find that your cleaners are missing areas, rushing, or not following procedures, then you should be able to address it and, more often than not, the issue will be remedied and fixed.
Keep in mind that they are human too. However, they should always remain consistent with their standards and be well trained in their work. Rest assured that a good, professional cleaning company will get the job done right without you having to worry too much.
Wet Floor Signs
With any professional cleaning company, there are certain safety protocols and rules that must be adhered to for the benefit of all in the workplace. For example, wet floor signage should be put up promptly after mopping or waxing any floors to ensure that there are no accidents, slips, or falls. If you notice wet floors without any kind of warning, this is definitely something you will need to discuss with your cleaning company.
High Quality Products and Supplies
Depending on your business and brand, you may prefer your cleaning company to use certain products over others. For example, many companies maintain a scent-free environment so that no employee can be irritated by a certain smell in the workplace. Cleaners will have to be aware of this when using their products and offer alternatives that still get the job done effectively.
Likewise, if an office prefers environmentally friendly cleaning products, then the cleaning company should accommodate the request. Professional cleaners will have a wide range of cleaning supplies available to them and should ensure they are safe and effective to use. If you're not sure what kinds of products your cleaner is using, then simply ask them and they should be able to give you further information.
You Get What You Pay For
Always keep in mind that when it comes to professional cleaning services, you get what you pay for and essentially what is marked in the contract. For example, if you didn't pay for carpet or upholstery cleaning, then don't expect those areas to be done by your cleaners. Always know what you are paying for and the services that they offer. This should all be outlined in your contract, as well as how often they will clean and what the cleaning schedule looks like.
Interested in Office Cleaning? Contact RBC Clean
Spills, stains, and messes should never be left untreated. In an office environment, you want to keep your employees and clients happy and comfortable, and that means having clean, clutter-free surroundings. For more information on emergency cleaning services and office cleaning, please call RBC Clean at 1-866-278-8208 or contact us here. We are confident that our dedicated team of professionals can tackle any mess that you may be worried about. Don't delay; contact us today for more information on our services. We are located in Aurora and service all of the GTA for convenient, professional service when you need it most.