We use spas, scrubs, and detoxing diets to remove harmful chemicals from our bodies, so it's only natural to protect pets from certain cleaning products to have them free from those chemicals, as well.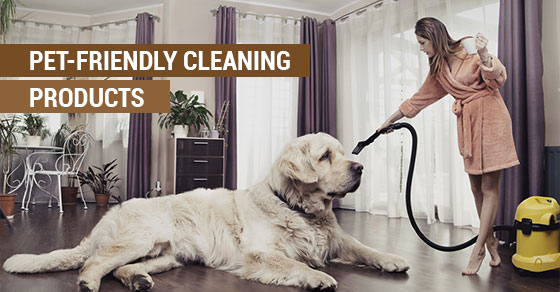 Some products that are available from the drugstore or grocery normally pose no threat to humans, but affecting pets quite differently.
Here are a few cleaning products that are great for the home and easy on your pets:
Seventh Generation Disinfecting Multi-Surface Cleaner
This spray comes from a Vermont-based company, so you may have to order a case online as it's not stocked by most chain stores.
They're a company dedicated to being environmentally friendly while being effective to protect you and your family from germs. The spray contains epa-registered liquids and relies on essential oils to kill 99.99% of bacteria.
Eco-Care Stain and Odor Remover
As another environmentally friendly product, this spray is biodegradable and made with sustainable and renewable ingredients.
Unlike other bottle sprays, Eco-Care uses organic components such as pro-bacteria and enzymes to target odors.
Method Squirt and Mop
Method is a brand that was quickly embraced by home cleaners everywhere, and its scents are incredibly marketable.
The Squirt and Mop is for floors, except smelling like pine, its added scent is almond. This cleaning product is safe on hardwood but doesn't contain wax or artificial chemicals.
Nature's Miracle Laundry Boost
If you wash your pet's laundry separately from your own clothing and bedding, then it also makes sense to use a special detergent for cleaning. That way, you don't have to sacrifice special whitening, colour fasteners, or other effects on your clothing in case of how it might affect you pet.
Laundry Boost removes grease from fur, urine, feces, and saliva from fabrics using bio-enzymatic technology.
Mrs. Meyer's Clean Day Bathroom Cleaner
This spray is the lowest cost solution on this list, and its home-made brand makes sure not to use ammonia, chlorine, bleach, paraben, and phosphates.
Its brand is also based around aromatherapy, combining the mood boosting effects from amazing scents, unlike abrasive chemicals that may attack your senses as you clean.
Caldrea Stain Remover
The packaging may suggest a top of the line product, styled after high fashion, international brands, but this line is as affordable as any other product on this list. It comes in its own special aromatherapeutic scents such as sweet pea, and its functional ingredients include essential oils from rose, orange, jasmine, and others.
It's just as important to think about you pets health as it is your family's or your own. Take a look at the products on this list and keep your animals healthy inside your home!