Smart Way To Clean Window Blinds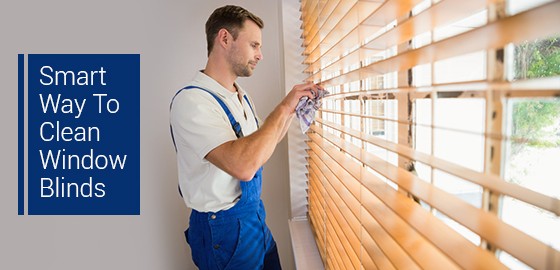 Blinds are one of those household items that are rarely cleaned; partly because you ignore them until they get noticeably dirty, and because you keep procrastinating every time you think to dust or clean them.
Blinds provide privacy and protection from the sun, and because they remain open all summer long, they tend to accumulate a lot of dust. So, it is important that you find a clever way to clean them easily and quickly. You can actually make your own blind cleaning tool using items already in your home. Here are some ideas:
Idea #1:
You'll need a set of plastic or metal tongs; 1 microfiber washcloth; and 4 rubber bands. To make it:
Cut the washcloth into two equal pieces.
Fold each of the pieces in half and wrap them around the two sides of the tongs separately
Secure them with the rubber bands
Your blind cleaning tool is now ready to use. Simply give it a light spray with a cleaning disinfectant that will help to get rid of the dust better while disinfecting and deodorising your blinds at once.
If your blinds are very dirty, you may need to change the washcloth a few times, but this is still a simple process.>
When you are done cleaning the blinds, simply remove the wash cloth off of the tongs and wash them.
Idea #2:
There is another easy way to clean your window blinds in two easy steps:
Step 1: Quick dusting – Open your blinds so it is easy to dust the area between the slats. You can use a microfiber cloth, duster, or even your vacuum cleaner hose attachment to suck up any dirt or cobwebs.
Step 2: Actual cleaning – Create a cleaning solution by mixing equal parts of vinegar and water in a spray bottle. For very dirty blinds, add a quarter teaspoon of dish soap to help get rid of the buildup. Turn an old sock inside out and insert your hand. Shake the spray container, spritz the cleaner on the sock, and gently wipe each slat – top and bottom. You can also use a microfiber cloth instead of a sock.
Final note
When you're done cleaning the blinds, pull them up so you can clean the window using the same cleaner solution. Wipe around the window frame removing all dust and dirt, and then return the blinds to their rightful position.
With these ideas, cleaning your blinds should be much easier and less time consuming, so you can make it a routine house chore.