The Best Time of Year for Window Cleaning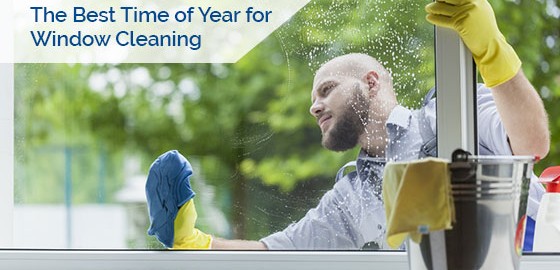 With all the rain, pollen and debris that glass panes tend to attract, keeping your windows clean can be hard work. The best way to ensure they stay sparkling all year-round is by getting them washed professionally.
But if you're wondering when's the best time of year for window cleaning, RBC can provide you with the best advice. Although some seasons are more popular than others, each time of year has its benefits. Here are some trends our team has noticed from our decades of experience.
Spring
By far, the busiest time of year for window cleaning is the spring. Whether you own a townhouse in the suburbs or manage a busy office building downtown, this is when people are ready to let in fresh air after being cooped up all winter.
Special occasions are another reason why many clients look to spring for window cleaning. Everyone wants their properties to look their best for wedding receptions, bridal showers or graduation parties, which tend to happen late spring or early summer. Just be sure to book your window washing well in advance as professional cleaning companies tend to get very busy this time of year.
Because the weather is fairly pleasant, windows will often look clean for at least a couple of months. Although there can be a fair amount of rain, clean rainwater won't put too much dirt back on your windows. If you're thinking of getting your windows washed in the spring, opt for mid-to-late April. In Ontario, it's not unusual to get some snow even though winter is officially over.
Summer
The summer months are great for window washing because many cleaning companies tend to slow down this time of year. That's because many people are on vacation or simply busy doing things outside the home. This means you can probably get your job scheduled on relatively short notice.
There's also less chance of getting rain on your windows shortly after cleaning than there is in the spring. And if your windows are double-paned, you'll want to have them disassembled and cleaned between the glass. Summer is generally a good time to clean this style of window.
Although the sun's scorching hot rays might make window cleaning more difficult, it's certainly not impossible. At RBC, we have a technique that allows us to wet the glass and squeegee it dry all at the same time. Our clients can be assured they're getting the best results even on the hottest summer days.
Fall
Like spring, the fall is another popular season for window cleaning. Many people notice their windows have become dirty again, and want them serviced before winter rolls around. Lots of entertaining happens during the Thanksgiving and Christmas holidays, so many homeowners want everything looking their best.
If you're interested in a fall cleaning, have your job scheduled for the week following Labour Day. The lazy days of summer will be behind you, and the kids will finally be back to school. Sparkling windows will signal the start of a new season before you bunker in for winter all over again.
Winter
This tends to be the least popular time of year for window cleaning. It's partly because many homeowners are under the impression that this type of work can't be done in the winter months. But this is absolutely not the case. Barring a severe snowstorm or slippery conditions, windows can be cleaned even if it's cold outside.
Here are some advantages to cleaning your windows in winter:
Clean windows can significantly brighten your home by letting sunlight in when the days are shorter
With less rainfall and dust in the air, your windows will stay cleaner longer
Because there's less demand, it's easier for cleaning companies to schedule your job
The most common customers in winter are those preparing their homes for sale, builders finishing up a property for delivery, or clients on a quarterly cleaning schedule. Although job rescheduling happens more often in the winter because of excessive cold, don't let this stop you if your windows need a washing this time of year.
To learn more about the best times of the year for window cleaning, call RBC at 1-866-278-8208 or contact us here.