When parents drop off their little ones at the local daycare when going to work, running errands, or attending to other needs, they trust that their children will be safe. With a high risk of infectious diseases spreading fast in a daycare setting, one of the most important factors when choosing a daycare facility is their level of cleanliness.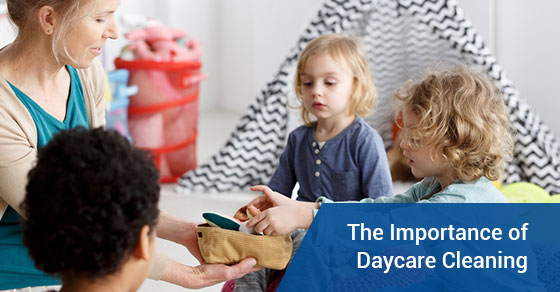 All parents want their children to be in a safe and sanitary environment that not only meets the minimum standards of safety and cleanliness but also goes the extra mile to seek routine professional cleaning services, like window cleaning in Markham. Considering that daycare cleaning is probably what sets your facility apart from your competitors, here are some reasons why the daycare environment should be kept spotless and above reproach:
Increased Exposure to Illnesses and Infectious Diseases
Child care settings demand a high level of hygiene because young children easily spread their germs. They touch everything and put their fingers and objects in their mouths, as they drool, sneeze, cough, use diapers, or learn to use the toilet. Moreover, children in daycare typically interact with the same toys and come into close contact with each other when playing.
Young children lack the tools to exercise proper hygiene, such as covering their mouths when coughing or handwashing. Common surfaces such as floors, tables, kitchen areas, and doorknobs that are not properly and regularly cleaned can be hot spots for germs.
The daycare setting also increases the risk of common childhood diseases such as diarrhea, cold, common flu, and respiratory syncytial virus (RSV), as well as contagious items such as scabies, strep throat, impetigo, head lice, and pink eye. While some of these problems can be resolved relatively fast, others may require the child to be isolated for several weeks to heal.
If all surfaces of the daycare are not cleaned thoroughly, a myriad of infections can spread through direct or indirect contact, affecting both the children and staff. The illnesses can even spread beyond the childcare to the children's homes, affecting siblings and parents.
The immune system for young children is still developing, which makes them more vulnerable to illnesses compared to older children. This means that the parents should be the first line of defence against infections and diseases by keeping their children's immunizations up to date. They should also teach their children about vital hygienic practices such as hand washing and covering their mouth when sneezing at the right age, and determine when to let the child stay at home if he/she is unwell.
Health Requirements for Daycare Centres
Parents strive to provide a healthy environment for their children and expect the same from daycare centres. In fact, there are specific licensing laws and health requirements that apply to child care facilities. They seek to address issues such as immunizations requirements for both children and staff, as well as procedures for handling communicable diseases and illnesses.
To ensure that the daycare provider you've chosen is good for your child, you should ask the following questions:
What safety practises do you use when buying children's toys and products? Are they developmentally appropriate and tested/certified as indicated on the label?
How often do you clean the toys?
How strict is your handwashing policy?
What is your internal sanitizing and disinfecting policy?
What is your food preparation procedure?
How are dirty diapers changed and disposed of?
How often is the facility professionally cleaned?
Do all staff members have the necessary training in proper hygiene practices?
Thorough cleaning of child care centres typically demands detailed day-to-day procedures combined with professional deep-cleaning to prepare the space for the next day. The fact that you will be working with a professional cleaning crew every day demands a good working relationship and open communication. To find the right professional cleaners, you should find out:
Whether their cleaning products are effective and safe for children
If they have experience cleaning daycare facilities and any referrals they have
Their system for accountability or crew follow up
Whether the cleaning crew is trained, insured, and bonded
Whether you'll have a consistent cleaning crew or different cleaners every time
How they resolve problems
Professional Cleaning Service for your Daycare
Cleaning is the first step to removing germs or disease-causing microorganisms from the child care environment. The physical removal of dirt and organic matter from all objects using detergent, chemicals, friction, clean water, and other supplies is important to prevent germs from accumulating and causing further infection. But it is just as important to ensure that the right, non-toxic chemicals and supplies are used that will not harm young children.
Considering that professional cleaners specialize in cleaning different environments and surfaces, they know the right chemicals and supplies to not only clean child care environments but also disinfect them.
Cleaning and Disinfecting
Cleaning involves the physical removal of dirt and debris from items and surfaces by washing, scrubbing, and rinsing.
The cleaning crew should also use the right disinfecting products to prevent the transfer of germs from one contaminated surface to another using cloth or sponges.
Moreover disinfecting surfaces after hours prevents the risk of exposing children to cleaning products and allows the surfaces to be cleaned more efficiently and effectively.
Final Note
If your daycare centre is not thoroughly cleaned, it can allow communicable diseases to spread and lead to adverse ramifications. Both children and staff members can fall ill, causing parents to withdraw their children from the facility and your staff to miss days of work, resulting in losses for your child care business.
As such, it is important to maintain a high level of cleanliness and sanitation by enforcing established hygiene procedures, such as handwashing, and hiring the right professional cleaning team to help disinfect all items and surfaces, prevent the spread of any lingering germs, and address potential health hazards during after-hours cleaning. Call RBC Clean today at 289-800-7694 or contact us here for more information.