New tile can revamp any room. Whether you've hired a professional to replace your linoleum floors with gorgeous tile, or you've taken the DIY route and done it yourself, you still need to clean up afterwards. Cleaning up after a tile job isn't as hard as you may think. Here are some tips that'll turn your newly tiled room into the cleanest room in your house.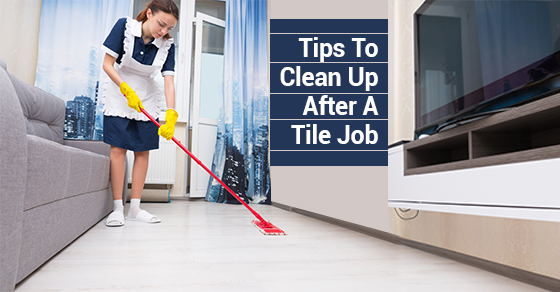 You will need: three microfiber cloths, a bucket, water and Borax.
Cleaning floors
You'll need to wait 24 hours before you can start cleaning to ensure the tile has been set and the trim molding is back in place. Once that's done, it's time to start cleaning. Wash the floor with water and a microfiber floor pad. You'll need to rinse the water and the pad a few times, so you're not wiping your floor with dirty water. Since you've already moved all the furniture out of the room that's been tiled, you should have no trouble getting to all areas of the floor. You'll notice that any residue will disappear from the tiles and grout after a good water washing.
Cleaning doors
Most renovation jobs, whether they involve tile or not, create dust. Take this opportunity to wash the doors, trim and molding and remove any dust that has accumulated during the tile job. For this you will need a bucket of warm water and about a tablespoon of Borax (or another sodium borate-based household cleaner). Sodium borate-based cleaners also work well as deodorizers. Dip a microfiber cloth into the Borax and water mixture and get cleaning —you'll see how easily the dust comes off.
Cleaning walls
The last thing to do when cleaning up after a tile job is tackling the walls. It's important to be gentle when washing walls because you don't want to strip the paint or wallpaper. The Borax and water solution is gentle enough to work without harming your walls. However, make sure you are using a microfiber cloth—and don't scrub too hard—so you're not peeling the paint or wallpaper.
Before you move the furniture back, make sure the floor, walls and doors are dry. Once dry, put everything back in its place and admire the great job you did. You not only have a gorgeous new tiled floor, but also a very clean room.