Your weekly bathroom cleaning may involve a scrubbing of the bathtub and the sink, a wiping of the counter, a swish or two of the brush in the toilet bowl, a quick mop of the floor, and a polish of the mirror.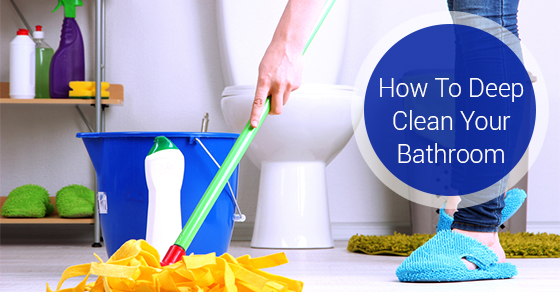 Our regular bathroom cleaning may be fine for day-to-day, but once in awhile a thorough, detailed cleaning is required. After all, the bathroom is a place where moisture and dirt intermingle and all kinds of germs happily lurk about, and that, in extreme cases, may present a health hazard.
Dedicate an afternoon every two months or so for this task. Roll up your sleeves, and make your bathroom not only sparkling clean from corner to corner, but more importantly, sanitized and hygienic.
Consider following this game plan for an easy, deep clean:
Step 1. Throw your mats in the washing machine.
Step 2. Remove lime and germs from your shower head by tying a plastic grocery full of
white vinegar around it, and letting it soak for a while.
Step 3. Wash your plastic shower curtains and liners in a washing machine and hang
them to dry. You can wash them with your regular detergent, but add a few old towels to the mix – their fibers will help to get rid of built-up soap scum and mildew on the curtains. Or, simply replace the liner and/or the curtain – they are quite affordable, and it will make for a nice, fresh change in the bathroom. If you have glass shower doors, remove the soap scum with a glass cooktop cleaner.
Step 4. Tackle your grimy bathroom fan. Do this before cleaning any other fixture in the
bathroom because the grime falling off the fan will play havoc with all your hard cleaning work.
Step 5. Clean tile, walls and the ceiling with an all-purpose cleaner and a sponge or a mop,and then wipe everything down dry.
Step 6. Grout is porous, and it not only shows discolouration which is unattractive, but is very susceptible to germ growth. Use bleach gel and a grout brush to make your grout white and germ-free again. Or if you don't want to use bleach, scrub your grout with hydrogen peroxide and baking soda.
Step 7. Given its function, the toilet is understandably a bona fide receptacle for a myriad of germs. Clean it thoroughly, making sure to scrub all the way under the rim. Consider taking the toilet seat off so you can clean all the nooks, crannies and crevices. Then pour a cup of baking soda into the bowl, let it sit for a bit, and brush. To clean your toilet tank reservoir, drop two denture tablets let them bubble overnight. And don't forget to clean the toilet brush!
Step 8. The basin of your sink is most likely cleaned quite regularly, but you can get rid of those harder water stains and germs around your sink faucet by placing a vinegar-soaked paper towel around it and letting it sit overnight.
Step 9. Use a drain snake to extract all the hair and grime from the sink drain. Prepare for a shocker when you see how much gunk clings to the walls of your drain.
Step 10. Finally, go through all your cabinets and throw away everything you haven't used within the last few months, as well as everything that's expired – especially your medications and cosmetics. Once your cabinets are empty, use oil soap to the scrub all the grime off the wood.
Deep cleaning your bathroom may sound like a daunting task—especially if you have several bathrooms in your house—but it's certainly worth it, considering that living with germs does pose a health hazard. But, if you really don't feel like deep cleaning your bathroom, you can always call professional cleaners whose job it is to leave any space thoroughly sparkling clean and germ-free! For more information, contact RBC Clean today.