Tips To Clean Your Carpet Without Using A Vacuum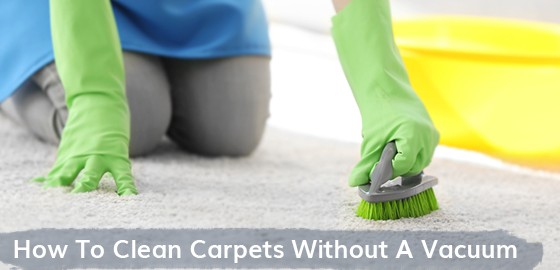 Vacuuming is one of those things that we don't look forward to doing, but we feel fantastic once it's done. There are few things more satisfying when it comes to cleaning your home than freshly vacuumed or cleaned carpets. Many people don't realize, however, that there are ways to clean your carpet without having to use a vacuum. Whether the vacuum is not working, you don't have one, or you simply would like to try a different method, a vacuum is not always a necessity if you want clean carpets. Below are some tips to help you clean your carpet without using a vacuum.
Sponge Clean
Aside from being a great way to pick up hair, leaves, dust and bits of debris that have become ingrained in the fabric, one of the most appealing aspects of sponge cleaning your carpets is that freshly steamed look that they have afterwards. Many professional home cleaners use damp cloths or sponges on furniture and upholstery anyways, so why not give it a try on the carpets.
Sweeping
While vacuuming might seem ideal, you can actually sweep your carpets to great effect. This is especially true if you have a carpet (like Berber) that is quite shallow, and doesn't require really penetrating deep down into the fabric to get dirt, dust and debris. A broom with sturdier bristles will definitely work better than a broom with soft ones.
Beating the Carpet
If the carpet in question is a big throw, or a larger area carpet that is not actually nailed down to the floor, you can do it the old fashioned way, by taking the carpet outside and beating the dirt and debris off of it. We recommend wearing a mask for this, because there will be a lot of particulate matter in the air while you are doing this. This is definitely something that you want to do as far away from your house as possible.
By Hand
If you just want to get the surface debris and dirt out of the way, you can actually take a latex glove and sweep the carpet with your hand. While this is probably going to be quite time consuming, and not something you are going to want to do every week, in a pinch, your hand can actually be quite effective at cleaning your carpet (at least to give it a superficial, cosmetic clean).
While vacuums certainly have the market cornered when it comes to carpet cleaning, there are alternative methods that will give your carpet a good cleaning. If you are in a bind and stuck without a vacuum, or you would simply like to try something new, keep the above vacuumless carpet cleaning techniques in mind.