What's the Cleanest City in Canada?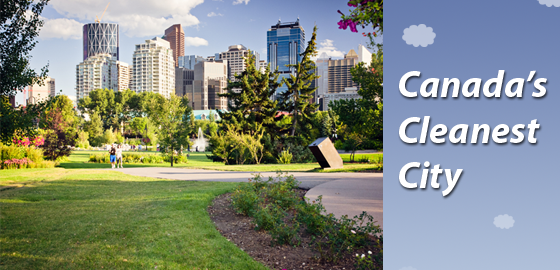 If somebody asked you what the cleanest city in Canada is, what would you guess?
We're willing to bet the answer will shock most people! It's natural to think of cities on the coast where the ocean breeze is fresh and the sky is clear, but the real answer is actually a largely populous: Calgary!
This is surprising when you consider that the city is in the centre of the oil and gas industry, and is dense with factories. Additionally having Alberta being atop Canada's ranking for disposable solid waste per capita (at more than 2000 pounds per person) makes this clean city even more ironic.
Nevertheless, it doesn't change the fact that Calgary is the cleanest city in Canada. And it doesn't stop there: The cowboy city isn't just the cleanest in Canada- it was dubbed the cleanest city in the world.
So how does a city of that size remain so clean? The "Too Good to Waste" program is likely to thank.
The government of Alberta introduced this program in 2007, and focused on recycling in order to minimize the amount of waste in landfills. The plan encouraged a unanimous commitment across the province to saving left over and discarded asphalt, drywall, shingles, and more.
In summary, the Too Good to Waste program is "Alberta's road map for waste reduction and management. It identifies the issues and opportunities, and outlines the outcomes, strategies and priority actions to help Alberta advance innovative waste management programs in the future."
On top of this program, Calgary also swore to decrease the amount of waste being sent to landfills by at least 80%. By the rankings so far, they seem to be on track.
Other initiatives taken by the municipal government of Calgary include resources on the city website to help citizens learn how to properly compost, recycle, and overall minimize litter and compost.
On top of their extreme initiatives, Calgary law enforcement officials can fine citizens for as much as $1000 for littering in public or improperly disposing of cigarette butts. With such a hefty price tag, citizens are incentivized to keep themselves clean while in the city.
Needless to say, Calgary's "cleanliness status" is something for other Canadian cities to look up to and something to strive for. If a metropolitan in the heart of what is arguably the most unclean industry out there can take the measures become the world's cleanest city, then there's no excuse for the rest of Canada to not do the same.