The first impression people have of your home is the outside, so keeping the exterior clean and tidy is as important as having a gleaming interior. Keeping your house looking prim and proper from the outside takes some elbow grease and some savvy. You might want to keep these tips in mind when you're getting ready to do an outdoor cleaning.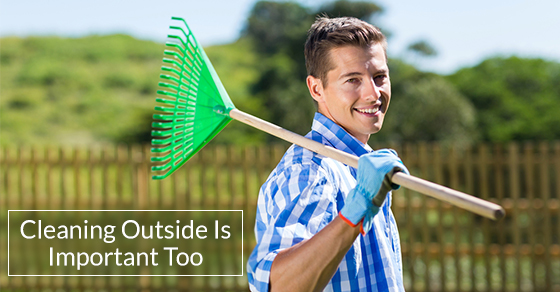 Give a Good Powerwash
Using a power washer in the spring and early fall will keep the exterior of your home spotless. Make sure to do this task in warmer weather. The last thing you want is mould growing on your home. Here are some tips:
Use a cleaner you love and that's environmentally friendly, like trisodium phosphate, in about three litres of water.
In small sections, wash from top to bottom and remember to do the eaves, sunroom roof and any outcroppings.
Let areas dry, and if you can, go over them again, to make sure they've been cleaned evenly.
The Driveway
Oil and grease make a driveway look dirty and uncared for, in addition to damaging its surface layer. Getting rid of grease stains is relatively simple. A little sawdust on the stain will absorb the grease. Let the sawdust do its magic for a few hours, and then shake powdered detergent on the spot and douse it with boiling water. You can clean the area with a wire brush and then rinse all the gunk off. Do it again if some of the stain is still sticking. Once any stains are gone, a power washer will remove any other grime, mildew or dirt.
Removing Rust
If you spot any rust anywhere on the outside of your home, including on window screens, it should be removed if possible. A kerosene soaked rag is rust's fervent enemy. If rust spots are particularly bad, they may need to be sanded and painted with a rustproof paint. Check metal surfaces often to catch rust in its infancy.
Windows
A house washing isn't complete until the windows are done. Surface dirt can be cleaned with a small amount of ammonia in warm water. Adding some cornstarch to the cleaning solution will leave your windows gleaming and without streaks. Rubbing alcohol in a mixture of warm water and dish soap is also a great window cleaner. The alcohol helps speed up the drying time of the windows.